35 Calming Bible Verses About Worry
Worry, anxiety, and fear are all weapons in the devil's arsenal to keep us from living the full life that our heavenly father has planned for us.
These emotions can overwhelm us and keep us paralyzed from stepping out and trusting God. Thankfully the Bible is filled with Bible verses about worry and who God is.
Sometimes it seems like there's never enough time in the day, and you can't do everything. When that happens, it's easy to get frustrated and become consumed with worry.
The Bible is full of calming verses about worry that will help you keep your head above water when life becomes overwhelming.
These calming Bible verses about worry teach us why we shouldn't live in anxiety and how to find peace when worry creeps in.
All translations in this post are from the New International Version, unless otherwise noted. Please visit Bible Gateway to find these verses in your preferred translation

How big of a problem is anxiety?
In the United States, recent research shows that anxiety is among the most prevalent mental health problems. Among adults, about 18% reported experiencing significant anxiety in the past year and about 12% reported being a clinically anxious person.
"Everyone experiences stress and anxiety at one time or another," according to the Anxiety & Depression Association of America. "The difference between them is that stress is a response to a threat in a situation. Anxiety is a reaction to the stress."
Max Lucado reminds us to be "anxious for nothing" (Philippians 4:6-7). "The presence of anxiety is unavoidable, but the prison of anxiety is optional. It's the life of perpetual anxiety that Paul wants to address. Don't let anything in life leave you perpetually in angst."
In Lucado's book Anxious for Nothing: Finding Calm in a Chaotic World, he provides a roadmap to the study and application of Philippians 4: 6-7.
"Under the guidance of the Holy Spirit, you will learn to view bad news through the lens of sovereignty; to discern the lies of Satan and tell yourself the truth," writes Lucado. "You will manifest a gentleness that is evident to others. Anxiety comes with life. But it doesn't have to dominate your life."
What Does God Say About Worry?
The Bible is filled to the brim with Bible Verses about worry so we can get a really good idea of what God says about worry. A great example is Matthew 6:27 where it says Can any one of you by worrying add a single hour to your life?
God gives us a spirit of peace, He doesn't want us to spend sleepless nights worrying about the future, or anything else. He tells us to rest in the knowledge that He is God and He is in control and He will be with us every step of the way. Worrying only leaves us restless and stressed out but unable to change anything through worrying.
You may also want to read:
Does the Bible Say Not to Worry About Anything?
The Bible is very clear about what we should be worrying about:
Do not be anxious about anything, but in every situation, by prayer and petition, with thanksgiving, present your requests to God. And the peace of God, which transcends all understanding, will guard your hearts and your minds in Christ Jesus.

Philippians 4:6-7 NIV
The scholars of the Believer's Bible Commentary tell us that prayer is part action and part atmosphere.
"We come to the Lord at specific times and bring specific requests before Him," they write. "But it is also possible to live in an atmosphere of prayer. It is possible that the mood of our life should be a prayerful mood."
Is There Anything God Can Not Do?
There is nothing that our God can not do. He is all powerful, and all knowing. Nothing is too big for Him, or outside His control.
There is nothing that our God can not do. He is all powerful, and all knowing. Nothing is too big for Him, or outside His control.
When Christians say God is omniscient, they mean that he knows everything—past, present and future. He created all knowledge before humans were even on the scene to ponder it; so of course nothing gets past him!
When you think about what this means for everyday life: No secrets or hiding anything from Him because he already knows how we'll react in any situation.
"He is omniscient, which means that He knows in one free and effortless act all matter, all spirit, all relationships, all events," wrote A.W. Tozer in The Pursuit of God, which was listed as one of the Top 100 Books of the Century by Christianity Today.
Bible Verses About Worry to Bring You Peace
One of the best ways to combat worry and anxiety when the world around us feels like it's in utter turmoil is to meditate on Bible verses about worry. There is nothing more calming than the word of God when we need to find peace.
When anxiety was great within me, your consolation brought me joy.
Psalm 94:19
Have I not commanded you? Be strong and courageous. Do not be afraid; do not be discouraged, for the LORD your God will be with you wherever you go."
Joshua 1:9
Then Jesus said to his disciples: "Therefore I tell you, do not worry about your life, what you will eat; or about your body, what you will wear.
Luke 12:22
If that is how God clothes the grass of the field, which is here today and tomorrow is thrown into the fire, will he not much more clothe you—you of little faith? So do not worry, saying, 'What shall we eat?' or 'What shall we drink?' or 'What shall we wear?'
Matthew 6:30-31
For no word from God will ever fail.
Luke 1:37
Trust in the LORD with all your heart and lean not on your own understanding; 6 in all your ways submit to him, and he will make your paths straight.
Proverbs 3:5-6
But even if you should suffer for what is right, you are blessed. "Do not fear their threats; do not be frightened."
1 Peter 3:14
Worry is a weapon used to shackle us in fear, but these Bible verses about worry can help to keep our eyes and hearts firmly planted on the one who is and was and will always be in control.
So then, banish anxiety from your heart and cast off the troubles of your body, for youth and vigor are meaningless.
Ecclesiastes 11:10
Do not worry beforehand about what to say. Just say whatever is given you at the time, for it is not you speaking, but the Holy Spirit.
Mark 13:11
For I am convinced that neither death nor life, neither angels nor demons, neither the present nor the future, nor any powers, 39 neither height nor depth, nor anything else in all creation, will be able to separate us from the love of God that is in Christ Jesus our Lord.
Romans 8:38-39
"But blessed is the one who trusts in the LORD, whose confidence is in him. 8 They will be like a tree planted by the water that sends out its roots by the stream. It does not fear when heat comes; its leaves are always green. It has no worries in a year of drought and never fails to bear fruit."
Jeremiah 17:7-8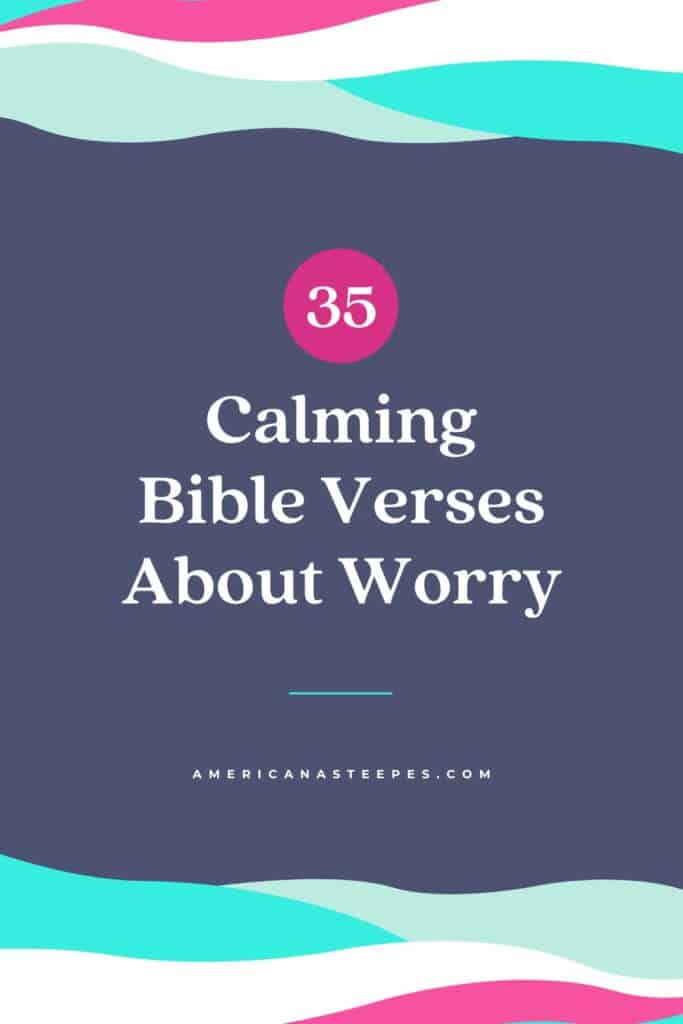 Calming Bible Verses About Anxiety
Getting a pretty good idea about God's heart when it comes to worrying yet? These Bible verses about worry are powerful reminders of who is in control, that can bring us peace in any storm.
There is no fear in love. But perfect love drives out fear, because fear has to do with punishment. The one who fears is not made perfect in love.
1 John 4:18
Cast your cares on the LORD and he will sustain you; he will never let the righteous be shaken.
Psalm 55:22
Anxiety weighs down the heart, but a kind word cheers it up.
Proverbs 12:25
Cast all your anxiety on him because he cares for you.
1 Peter 5:6-8
Even though I walk through the darkest valley, I will fear no evil, for you are with me; your rod and your staff, they comfort me.
Psalm 23:4
All my longings lie open before you, Lord; my sighing is not hidden from you.
Psalm 38:9
Therefore do not worry about tomorrow, for tomorrow will worry about itself. Each day has enough trouble of its own.
Matthew 6:34
The righteous cry out, and the LORD hears them; he delivers them from all their troubles.
Psalm 34:17
Say to those with fearful hearts, "Be strong, do not fear; your God will come, he will come with vengeance; with divine retribution he will come to save you."
Isaiah 35:4
So do not fear, for I am with you; do not be dismayed, for I am your God. I will strengthen you and help you; I will uphold you with my righteous right hand.
Isaiah 41:10
Peace I leave with you; my peace I give you. I do not give to you as the world gives. Do not let your hearts be troubled and do not be afraid. John 14:27
"Do not let your hearts be troubled. You believe in God; believe also in me.
John 14:1
I sought the LORD, and he answered me; he delivered me from all my fears.
Psalm 34:4
"And he said to them, 'Why are you troubled, and why do doubts arise in your hearts? See my hands and my feet, that it is I myself. Touch me, and see. For a spirit does not have flesh and bones as you see that I have.'"
Luke 24:38-39
"Say to those who have an anxious heart, 'Be strong; fear not! Behold, your God will come with vengeance, with the recompense of God. He will come and save you.'"
Isaiah 35:4
Consider the ravens: They do not sow or reap, they have no storeroom or barn; yet God feeds them. And how much more valuable you are than birds!
Luke 12:24
Psalm 23:1-6
The LORD is my shepherd, I lack nothing. He makes me lie down in green pastures, he leads me beside quiet waters, he refreshes my soul. He guides me along the right paths for his name's sake.
Even though I walk through the darkest valley,I will fear no evil, for you are with me; your rod and your staff, they comfort me. You prepare a table before me in the presence of my enemies.
You anoint my head with oil; my cup overflows. Surely your goodness and love will follow me all the days of my life, and I will dwell in the house of the LORD forever.
Peace I leave with you; my peace I give you. I do not give to you as the world gives. Do not let your hearts be troubled and do not be afraid.
John 14:27
Let the peace of Christ rule in your hearts, since as members of one body you were called to peace. And be thankful.
Colossians 3:15
"Out of my distress I called on the Lord; the Lord answered me and set me free. The Lord is on my side; I will not fear. What can man do to me?"
Psalm 118:5-6
So do not fear, for I am with you; do not be dismayed, for I am your God. I will strengthen you and help you; I will uphold you with my righteous right hand.
Isaiah 41:10
"Be gracious to me, O Lord, for I am languishing; heal me, O Lord, for my bones are troubled. My soul also is greatly troubled. But you, O Lord — how long? Turn, O Lord, deliver my life; save me for the sake of your steadfast love."
Psalm 6:2-4
How Do I Give God My Worries?
Now that we've looked at these beautiful Bible verses about worry let's look at how we can give God our worries. The first way to do that is through prayer. Prayer directs our minds back to Him, by petitioning our heavenly father with our wants and needs we place them in His hands, surrendering control, and then being thankful for the promises found in these Bible verses about worry.
Meditating on these Bible verses about worry can help to remind us to turn our worries and anxieties over to our King and Heavenly Father.
When we surrender the things causing us to worry we render one of the devil's most effective weapons against us useless and our problems in the most capable hands.
All Scripture quotations, unless otherwise indicated, are taken from the Holy Bible, New International Version®, NIV®. Copyright ©1973, 1978, 1984, 2011 by Biblica, Inc.™ Used by permission of Zondervan. All rights reserved worldwide. www.zondervan.com The "NIV" and "New International Version" are trademarks registered in the United States Patent and Trademark Office by Biblica, Inc.™