45 of the most inspirational Bible verses for Instagram bio
Posting inspirational content on Instagram helps you connect with followers, as well as keep your following engaged and motivated. The social media platform is also a great way to share your faith.
From the Old to the New testaments, the Bible is sprinkled with short, inspirational Bible verses for your Instagram bio. We made sure that the Bible verses shared in this article are easy to read, memorable, and relatable.
Our list of "Bible verses for Instagram bio" will help you build your personal brand and reach millions of people.
Should I put a Bible verse in my Instagram bio?
Instagram is a place where people are looking to connect with others and share their lives, so your bio should be reflective of that. It's not enough to just put up photos of yourself—you have to think about what others will see when they look at your profile and how they'll feel when they read it.
If you're considering adding a Bible verse to your Instagram bio, there are some things to keep in mind.
First, think about what kind of message you want to send. Do you want people to know that they can always trust God? Or do you want them to know how much you love Jesus?
You also have to consider the length of your Instagram bio. The current limit is 150 characters.
What if I want to use a longer Bible verse? Consider a few of these tips:
Abbreviate the scripture reference. For example, shorten Corinthians to Co. or Cor. For a listing of all abbreviations, refer to this page on Logos.
Check different translations for the verse. Some translations offer shorter passages.
When using longer verses, use the New Living Translation, which is heralded as the easiest to read.
Shorten the verses by paraphrasing or using only a section of it.
For the longer Bible verses below, we provide a suggested shortened version for your Instagram bio. All scripture is from the World English Bible unless otherwise noted.
Inspirational Bible verses for Instagram bio
Scripture is inspirational for people even if they aren't religious. Bible verses are great for a number of reasons, from inspiring us to live a life of faith to being meaningful on social media.
You can use these verses for your Instagram bio or as a caption on one of your photos.
Bible verses that declare God's glory
Every morning, I try to think of ways I will glorify God today, and in the evening, I take account of those ways. It's not about achieving perfection, but rather it is about being mindful or purposeful in setting my mind on God.
We glorify God in our faith, worship, and service to others.
God's word calls us to glorify him in all that we do – even in what we eat and drink.
1 Corinthians 10:31
The heavens declare God's glory
The heavens declare the glory of God. The expanse shows his handiwork.
Psalm 19:1
The name of God is great
There is no one like you, Yahweh. You are great, and your name is great in might.
Jeremiah 10:6
Let your light shine
Even so, let your light shine before men, that they may see your good works and glorify your Father who is in heaven.
Matthew 5:16
Bible verses about trusting God
God is all you need.
He's never too busy to listen to your prayers, even if they're short and simple. He knows when you need a hug or a high five, too. No matter what life throws at you, God is there for you—because he wants to be. You can trust him with all of your problems, because he won't let you down.
But sometimes it's difficult for me to remember this, and that's why reading the scriptures about trusting God is a good reminder.
Trust in God with all your heart
Trust in the Lord with all thine heart; and lean not unto thine own understanding.
Proverbs 3:5 (ESV)
God is your everlasting strength
Trust in the Lord God always, for in the Lord Jehovah is your everlasting strength.
Isaiah 26:4 (Living Bible)
Whoever will call on the name of the Lord will be saved.
Romans 10:13
Let's set our mind on things above
Set your mind on the things that are above, not on the things that are on the earth.
Colossians 3:1-2
For our light affliction, which is for the moment, works for us more and more exceedingly an eternal weight of glory
2 Corinthians 4:17
More Bible verses: 36 powerful Bible verses for runners
Bible verses about joy
Always rejoice.
1 Thessalonians 5:16
You will fill me with joy in your presence.
Psalm 16:11
The joy of the Lord is your strength.
Nehemiah 8:10
Rejoice in the Lord always! Again I will say, "Rejoice!"
Philippians 4:4
But the fruit of the Spirit is love, joy, peace, patience, kindness, goodness, faith.
Galatians 5:22
Bible verses to praise God
Bible verses about praising God not only make for good Instagram bios, but they also work well as captions on your stories or photos.
Praise the Lord!
Let everything that has breath praise the Lord. Praise the Lord!
Psalm 150:6 (NLV)
Trust, Rejoice, Praise
The Lord is my strength and my shield; my heart trusted in him, and I am helped: therefore my heart greatly rejoiceth; and with my song will I praise him.
Psalm 28:7
Bless the name of the Lord
Bless the Lord, O my soul: and all that is within me, bless his holy name.
Psalm 103:1
Give God thanks with all your heart
I will give thanks to you, Lord, with all my heart;
I will tell of all your wonderful deeds.
Psalm 9:1 (NIV)
Short bible verses for Instagram bio
This collection of short Bible verses come Instagram ready. The scriptures are sorted by topical categories for your convenience.
You have so many to choose from you might want to refresh your bio with a new one weekly or monthly.
Short bible verses about love
Hatred stirs up strife, but love covers all wrongs.
Proverbs 10:12
A friend loves at all times; and a brother is born for adversity.
Proverbs 17:17
This is my commandment, that you love one another, even as I have loved you.
John 15:12
We love him, because he first loved us.
1 John 4:19
Beloved, if God loved us in this way, we also ought to love one another.
1 John 4:11
Let all that you do be done in love.
1 Corinthians 16:14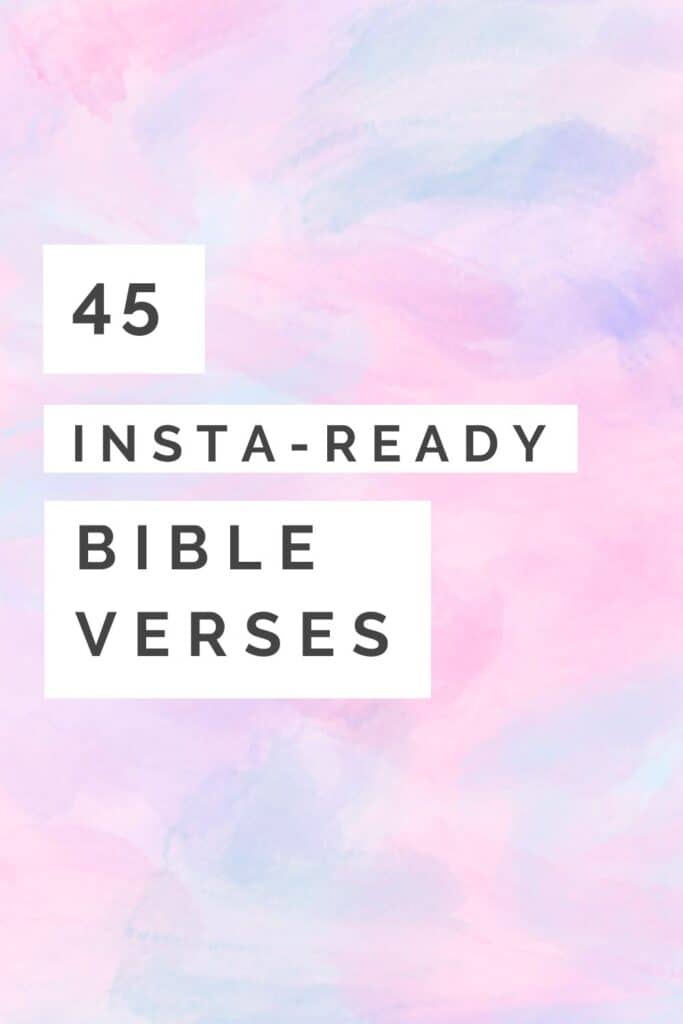 More Bible verses: 54 favorite Bible verses for new home construction
Short Bible verses about faith
For we walk by faith, not by sight.
2 Corinthians 5:7
Watch! Stand firm in the faith! Be courageous! Be strong!
1 Corinthians 16:13
I can do all things through Christ, who strengthens me.
Philippians 4:13
For nothing spoken by God is impossible.
Luke 1:37
Short Bible verses about hope
Rejoicing in hope; enduring in troubles; continuing steadfastly in prayer.
Romans 12:12
Having therefore such a hope, we use great boldness of speech.
2 Corinthians 3:12
Let's hold fast the confession of our hope without wavering; for he who promised is faithful.
Hebrews 10:23
But I will always hope,
and will add to all of your praise.
Psalm 71:14
You will be secure, because there is hope.
Yes, you will search, and will take your rest in safety.
Job 11:18
Yahweh takes pleasure in those who fear him,
in those who hope in his loving kindness.
Psalms 147:11
Short Bible verses about courage
Press on to the goal
I press on toward the goal for the prize of the high calling of God in Christ Jesus.
Philippians 3:14
Be strong and courageous.
Be strong and courageous. Don't be afraid or scared of them; for Yahweh your God himself is who goes with you. He will not fail you nor forsake you.
Deuteronomy 31:6
Be strong in the Lord, and in the strength of his might.
Ephesians 6:10
Be of good courage
Wait on the Lord: be of good courage, and he shall strengthen thine heart: wait, I say, on the Lord.
Psalm 27:14
Jesus: "Don't be afraid; just believe."
But Jesus, when he heard the message spoken, immediately said to the ruler of the synagogue, "Don't be afraid, only believe."
Mark 5:36
Be strong, and let your heart take courage, all you who hope in Yahweh.
Psalm 31:24
More Bible verses: 39 powerful Bible verses for new parents
Short Bible verses from the Psalms
Now, Lord, what do I wait for?
My hope is in you.
Psalm 39:7
For You are my hope, O Lord God;
You are my trust from my youth.
Psalm 71:5 (NKJV)
Let your loving kindness be on us, Yahweh,
since we have hoped in you.
Psalm 33:22
I wait for Yahweh.
My soul waits.
I hope in his word.
Psalm 130:5
But you, Yahweh, are a shield around me,
my glory, and the one who lifts up my head.
Psalm 3:3
5 of our favorite Christian Instagram accounts
We certainly have more favorites than we list here and always welcome learning about new accounts. If you have one to recommend, please drop a line in the Comment Section below.
1 – ButterflyLiving
Through her blog and Instagram, Christian author and speaker Mary Rooney Armand encourages believers to walk in the newness of Christ.
ButterflyLiving was created to help Christians embrace a new identity in Christ. When a butterfly breaks free from its cocoon, they emerge as a new beautiful creation. Similarly, when we accept that we are a beloved Child of God, we can relax and begin to embrace our new identity.

Mary Rooney Armand, Butterfly Living
Here is Mary's featured Bible verse:
2 – Deaf Motherhood
Deaf Motherhood is a ministry created by Janet Moreno, a deaf mom to 3 boys. Her videos are full of humor as well as reflections on our daily life as Christian moms.
One of her featured scriptures:
3 – Carlagasseratc
Carla Gasser helps women connect faith and life. She's a published author, speaker, and personal blogger. Many of her Instagram posts include a daily devotional in the caption.
4 – Lauren Fortenberry writes
Writer Lauren Fortenberry has a passion to fearlessly and faithfully encourage women through the love of Jesus Christ. Her beautiful Instagram account features prayers, devotionals, and scriptures.
5 – Pray with Confidence
Jessie Synan, author and blogger, offers real and honest prayer talk. The mom of three refers to herself as an easily distracted scatterbrained soul, which led her to a ministry of helping others to discover how to pray – even when you have trouble focusing!
In the Pray with Confidence Instagram page, you'll find help and encouragement for your daily Christian life.