35 mighty Bible verses for feeling overwhelmed
If you are here to look up Bible verses for feeling overwhelmed, please know that you are not alone. God hears you and cares for you, and we are here praying over everyone who reads this and will read this at some point. It is hard to feel overwhelmed (biggest understatement ever), so more than anything we want you to know you are welcome here.
When I was reflecting on what to write about being overwhelmed, this is what came to my mind: almost all stories are told in the past tense. Whether we are reading a fiction book, or our neighbor is telling us about a wild day that they had, we always hear the stories from the point of you that it has already happened.
I was hoping this blog post would be no different. I was hoping that I would overcome my season of being overwhelmed. I would be able to report to you how God saw me through it. Don't we love those stories? The overcomer stories?
But God had other plans.
God has a lot more growing for me to do when it comes to the area of handling my emotions when I am overwhelmed. So I know that I am writing this not in the past tense but in the present tense. But do you know what the most beautiful part of that is? God is the same today yesterday and tomorrow. This means that God's word is both present tense future tense, and past tense. God is, God can, and God is able.
This is the good news! God already knows our future. All of the aspects of life that are overwhelming us, God already knows what the solutions are. Just as I read a book, reading in the past tense, knowing the author has a plan for the end, God too has a plan, and it is always good. Even if it doesn't seem so in the moment.

These Bible verses are for when you are feeling overwhelmed, but they're not just for today. They're not solely for when you're feeling overwhelmed. But they are God's words. They can comfort us when we feel like nothing else can. When the world seems to be too much when there seems to be too much, but if, and not enough concrete answers, God's word will forever be the same, for the Word was God, and he came and walked among us.
So we provide this list of some of our favorite Bible verses for feeling overwhelmed, by category, for you to read today, and to save for whenever you need them. May you find God's words as comfort in your season of being overwhelmed.
Note: Unless otherwise noted, all Bible verses are from the NIV translation. To choose your preferred Bible translation, we recommend Bible Gateway.
35 Bible Verses For Feeling Overwhelmed
I decided to place these Bible verses into categories. These are categories that we may find ourselves falling into (or needing) when we feel overwhelmed. If we are missing a category that is speaking to you, please let us know in the comments so we can fix that!
Bible verses about rest
God's kingdom always works upside down. The last will be first, we have to become like a child to enter the kingdom of Heaven, etc. He always works differently than how the world works.
So that means that when we feel overwhelm, we need to do the opposite of the world. When the world says sleep less, work more, and stress out, God says to lean into Him and rest.
There is a saying that if the enemy doesn't make us bad, he'll make us busy, and I believe those words to be true. So if you feel overwhelmed because of how stressful life is and how much there is to do, pause and go to God. You will never regret a moment spent with God.
Here are two verses about rest for when you are feeling overwhelmed.
Matthew 11:28-30
"Come to me, all you who are weary and burdened, and I will give you rest. Take my yoke upon you and learn from me, for I am gentle and humble in heart, and you will find rest for your souls. For my yoke is easy and my burden is light."
Exodus 33:14
The Lord replied, "My Presence will go with you, and I will give you rest."
Bible verses when your overwhelm leads to anxiety
1 Peter 5:7
Cast all your anxiety on him because he cares for you.
Deuteronomy 31:8
The Lord himself goes before you and will be with you; he will never leave you nor forsake you. Do not be afraid; do not be discouraged."
Psalm 88:2-4
May my prayer come before you; turn your ear to my cry. I am overwhelmed with trouble and my life draws near to death. I am counted among those who go down to the pit; I am like one without strength.
Psalm 65:3
When we were overwhelmed by sins, you forgave our transgressions.
Philippians 4:7
And the peace of God, which transcends all understanding, will guard your hearts and your minds in Christ Jesus.
Psalm 27:1
The Lord is my light and my salvation— whom shall I fear? The Lord is the stronghold of my life — of whom shall I be afraid?
You may also want to read:
Bible verses for strength when overwhelmed
One of the devil's schemes is to try to make us buckle under the pressure. What if we turned that around and stood up to the enemy and shouted praises to God instead?
These Bible verses for feeling overwhelmed can provide strength in God throughout daily life so we can rest in the goodness of God instead of resting in present sufferings.
Psalm 61:2
"From the ends of the earth, I cry to you for help when my heart is overwhelmed. Lead me to the towering rock of safety"(Psalm 61:2 NLT)
Isaiah 41:10
"So do not fear, for I am with you; do not be dismayed, for I am your God. I will strengthen you and help you; I will uphold you with my righteous right hand." (Isaiah 41:10)
2 Samuel 22:3
"My God is my rock, in whom I take refuge, my shield and the horn of my salvation. He is my stronghold, my refuge and my savior— from violent people you save me."
Bible verses to trust God when life is too much
It is okay to ask God questions. David and other psalmists did all the time. It is okay to lament and cry out to God. But one amazing thing about the Psalms, along with other parts of the Bible, is that they always go back to praise God, even when life seems like it is too much. Here are some Bible verses of how to trust God in the overwhelming times.
John 14:1
"Do not let your hearts be troubled. You believe in God, believe also in me."
John 17:3
"Now this is eternal life: that they know you, the only true God, and Jesus Christ, whom you have sent." John 17:3
For me, this verse keeps me centered on the real purpose of life. The majority of things that bring us overwhelmed in the day-to-day? Well, they have little to do with the kingdom of Heaven.
We want to be careful to make sure that no overwhelm in our life becomes an idol and takes us away from people knowing God.
Psalm 61:3
"For you have been my refuge, a strong tower against the foe." Psalm 61:3
Jeremiah 17:7-8
"But blessed is the one who trusts in the Lord, whose confidence is in him. They will be like a tree planted by the water that sends out its roots by the stream. It does not fear when heat comes; its leaves are always green. It has no worries in a year of drought and never fails to bear fruit."
Isaiah 26:3-4
"You will keep in perfect peace, those whose minds are steadfast, because they trust in you. Trust in the Lord forever, for the Lord, the Lord himself, is the Rock eternal."
Psalm 18:1-2
"I love you, Lord, my strength, The Lord is my rock, my fortress and my deliverer, my God is my rock, in whom I take refuge, my shield and the horn of my salvation, my stronghold.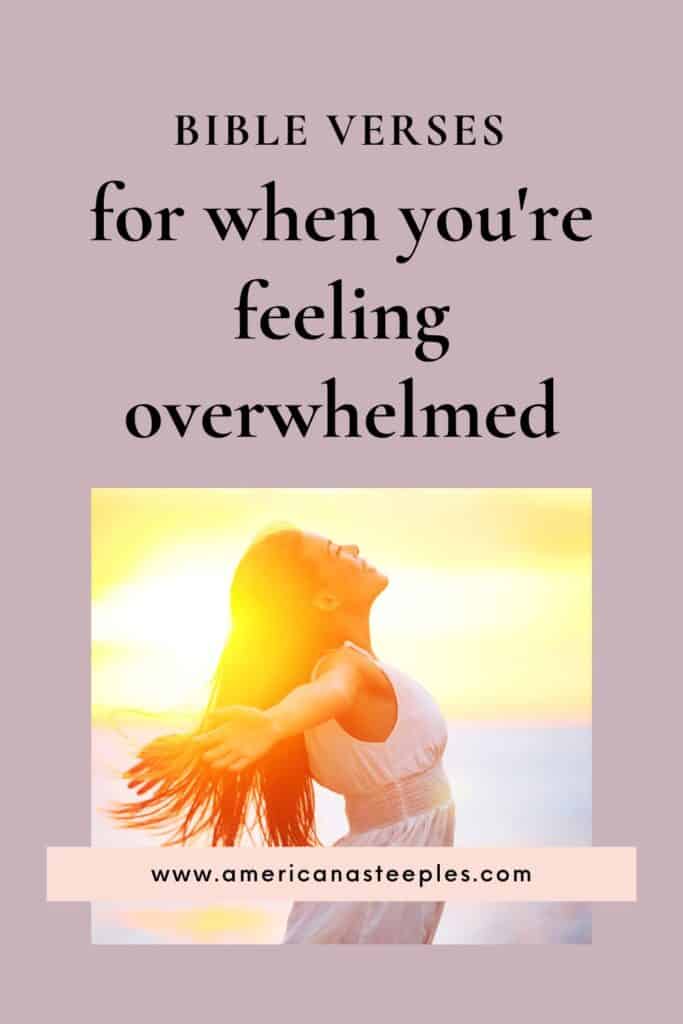 Bible verses to help reverse attitude
The first step is to always be honest with God. Talk to Him and let Him know what is on your mind. He knows what is in your heart anyways, so it's okay to say it out loud- it shows Him you want to be honest.
After that, the next best step is to pray and ask God for helping to reverse our attitudes and shift toward praising Him and showing His light, even if our world is dark at the moment.
Psalm 94:19
"When anxiety was great within me, your consolation brought me joy."
Luke 12:25
"Who of you by worrying can add a single hour to your life? Since you cannot do this very little thing, why do you worry about the rest?"
James 1:17
Every good and perfect gift is from above, coming down from the Father of the heavenly lights, who does not change like shifting shadows.
Every good thing comes from God. God doesn't change, He remains the same yesterday, today, and forever (Hebrews 13:8.) So His good things are always good. In times of overwhelm, sometimes it is helpful to create a list of blessings that come from God that are perfect. Overwhelm does not come from God.
Romans 5:5
"And hope does not put us to shame, because God's love has been poured out into our hearts through the Holy Spirit, who has been given to us."
Isaiah 40:26
"Lift up your eyes and look to the heavens: Who created all these? He who brings out the starry host one by one and calls forth each of them by name. Because of his great power and mighty strength, not one of them is missing."
What to focus on instead
Once we have shifted our attitude, the next step is what to focus on instead. If you have tried reversing how you feel and are still struggling, use these Bible verses to help focus on our God who is greater than any of our fear.
Ephesians 1:3
Praise be to the God and Father of our Lord Jesus Christ, who has blessed us in the heavenly realms with every spiritual blessing in Christ.
Philippians 4:8
"Finally, brothers and sisters, whatever is true, whatever is noble, whatever is right, whatever is pure, whatever is lovely, whatever is admirable—if anything is excellent or praiseworthy—think about such things."
Psalm 91:1
Whoever dwells in the shelter of the Most High will rest in the shadow of the Almighty."
Proverbs 3:5
"Trust in the Lord with all your heart and lean not on your own understanding"
Psalm 145:15
"The eyes of all look to you, and you give them their food at the proper time."
God knows much better than we do when we need things. If our overwhelm is from lack of anything (finances, control, etc.) we can go to God and rest in the idea that God knows the best solutions for us, better than we do for our own children.
Psalm 40:28
Do you not know? Have you not heard? The Lord is the everlasting God, the Creator of the ends of the earth. He will not grow tired or weary, and his understanding no one can fathom.
Ephesians 6:11
Put on the full armor of God, so that you can take your stand against the devil's schemes.
Psalm 115:10
House of Aaron, trust in the Lord— he is their help and shield.
Prayers For Feeling Overwhelmed
The power of prayer goes hand-in-hand with the truth of God's Word. When you combine the two, and do that daily, it can create a whole change of perspective when we are overwhelmed. Stressful moments can suddenly seem tolerable with God's help. It is a reminder that the worries of the world are truly of this world, and not from up above. Prayer can give us a sound mind in times of trouble and is the best remedy to fight feeling overwhelmed.
O Lord, I am feeling heavy burdens that are too plentiful to name right now. I know that through the power of Christ I can rest in the arms of God, knowing He has everything under control, because it does take power to be able to rest instead of worry. Because of your steadfast love for us, In the name of the Lord, Amen.
O God, In overwhelming times and overwhelming situations, I know that you are present. You are stronger than any overwhelming feeling I may be having. The overwhelming feeling does not come from you. O Heavenly Father, you know the cares of my heart better than I do. I ask for your mighty power of peace when life is rough so I can rest in the shelter of the most high. In the name of Christ Jesus, Amen.
Lord God, you know my to-do list is too much to bear right now. Please help me to make sure that my to-do list does not become my idol, and to put You first and always first. Amen.
Final Thoughts
We hope these comforting Bible verses have shown how the mighty hand of God is also a gentle God that loves you and cares for you so much. He does not want you to be overwhelmed, nor does He bring anything overwhelming, because all good things come from Him. God's love can overtake any situation.
Please let us know which of these Bible verses for feeling overwhelmed have helped you the most. God Bless!
All Scripture quotations, unless otherwise indicated, are taken from the Holy Bible, New International Version®, NIV®. Copyright ©1973, 1978, 1984, 2011 by Biblica, Inc.™ Used by permission of Zondervan. All rights reserved worldwide. www.zondervan.com The "NIV" and "New International Version" are trademarks registered in the United States Patent and Trademark Office by Biblica, Inc.™