54 favorite Bible verses for new home construction
You've made the decision to build your new dream home. You have a big vision and know exactly what it will look like. You know it can be a challenging experience, but you want the best for your family and you want it to reflect the best of you.
This could be a great time to ask God for wisdom and guidance and to bless the the construction. Bible verses for new home construction help you start with a solid foundation.
We didn't want to just give you any list though. Use the table of contents below to find what is most relevant for you, or browse them all to see what is best for you.
Note: Unless otherwise noted, all the Bible verses about new home construction are in the World English Bible translation. When I want to read verses in another translation, I use the Bible Gateway online.
What does the Bible say about building a house?
In the word of God we learn from a parable of Jesus that a wise person builds their house upon a rock. The foundation of your house has everything to do with whether it can stand up to the elements – just like your faith.
"Everyone therefore who hears these words of mine and does them, I will liken him to a wise man who built his house on a rock. The rain came down, the floods came, and the winds blew and beat on that house; and it didn't fall, for it was founded on the rock. Everyone who hears these words of mine and doesn't do them will be like a foolish man who built his house on the sand. The rain came down, the floods came, and the winds blew and beat on that house; and it fell—and its fall was great."
Matthew 7: 24-27
He is like a man building a house, who dug and went deep, and laid a foundation on the rock. When a flood arose, the stream broke against that house, and could not shake it, because it was founded on the rock. But he who hears, and doesn't do, is like a man who built a house on the earth without a foundation, against which the stream broke, and immediately it fell, and the ruin of that house was great.
Luke 6:48-49
Place your new home's construction in God's hands
God is in control. God is the builder.
You can trust Him to build your home.
The Bible tells us that when we work together with God, He will provide for our needs and desires.
We know that all things work together for good for those who love God, for those who are called according to his purpose.
Romans 8:28
For every house is built by someone; but he who built all things is God.
Hebrews 3:4
Except the Lord build the house, they labor in vain that build it.
Psalm 127:1 (KJV)
We should make plans—counting on God to direct us.
Proverbs 16:9 (Living Bible)
The instructions of the Lord are perfect,
reviving the soul.
The decrees of the Lord are trustworthy,
making wise the simple.
Psalm 19:7
For no one can lay any other foundation than that which has been laid, which is Jesus Christ.
1 Corinthians 3:11
How to practice good stewardship over your new home
The Bible is full of verses that help us understand how to be good stewards of our blessings. We are told to be good stewards of the wealth God has given us, and we are told that we should not waste what we have.
Everything we have comes from God. When you build you new home, remember that it starts with good stewardship.
Build your house on a foundation that will last forever by being wise and making smart decisions.
Make sure that you are putting God first in all decisions related to design and construction. This will ensure that when your home is finished, it will be a place where everyone can feel safe and secure — a place where they will want to return again and again!
For which of you, desiring to build a tower, doesn't first sit down and count the cost, to see if he has enough to complete it? Or perhaps, when he has laid a foundation, and is not able to finish, everyone who sees begins to mock him, saying, 'This man began to build, and wasn't able to finish.'
Luke 14:28-30
A good man leaves an inheritance to his children's children,
but the wealth of the sinner is stored for the righteous.
Proverbs 13:22
Prepare your work outside,
and get your fields ready.
Afterwards, build your house.
Proverbs 24:27
How to trust God with our new home construction
If you are planning on building your dream home, you may be feeling a little nervous about the process. You want it to be everything you could ever want and more. You know that God has been faithful throughout your life, and that He is going to continue to guide you in this new endeavor.
If you are feeling any doubt or hesitation about building a new home, read these verses from the Bible. They will give you reassurance that God is good and that He is willing to help in any way possible.
He who dwells in the secret place of the Most High
will rest in the shadow of the Almighty.
I will say of Yahweh, "He is my refuge and my fortress;
my God, in whom I trust."
Psalm 91:1-2
Trust in Yahweh with all your heart,
and don't lean on your own understanding.
In all your ways acknowledge him,
and he will make your paths straight.
Proverbs 3:5-6
In nothing be anxious, but in everything, by prayer and petition with thanksgiving, let your requests be made known to God.
Philippians 4:6
Bible verses to write on studs of new home
I love the sound of new-home construction. The chink, chink, chink of hammers on nails is music to my ears.
I'm sure you do too. It's a great feeling when the builder hands you the keys to your new home after months of decisions and construction. It's even better when you can invite all your friends and family over to help celebrate!
More Bible verses: 36 powerful Bible verses for runners
How do you bless a new construction home?
You can write the Bible verses below around the construction zone on studs, beams, and foundation.
Front Entryway
You shall be blessed when you come in, and you shall be blessed when you go out.
Deuteronomy 28:6
Into whatever house you enter, first say, 'Peace be to this house.'
Luke 10:5
The Lord keeps watch over you as you come and go,
both now and forever.
Psalm 121:8 (NLT)
Into whatever house you enter, first say, 'Peace be to this house.'
Luke 10:5
Family Room or Den
A new commandment I give to you, that you love one another. Just as I have loved you, you also love one another.
John 13:34
Love is patient and is kind.
Love doesn't envy.
Love doesn't brag, is not proud, doesn't behave itself inappropriately, doesn't seek its own way, is not provoked, takes no account of evil; doesn't rejoice in unrighteousness, but rejoices with the truth; 7 bears all things, believes all things, hopes all things, and endures all things.
1 Corinthians 13:4-7
Bathrooms
And who may stand in His holy place?
He who has clean hands and a pure heart.
Psalms 24:3-4 (Amplified Bible)
Now let a little water be fetched, wash your feet, and rest yourselves under the tree.
Genesis 18:4
You shall have a place also outside of the camp where you go relieve yourself.
Deuteronomy 23:12
Laundry Room
Purify me with hyssop, and I will be clean.
Wash me, and I will be whiter than snow.
Psalms 51:7
Moses went down from the mountain to the people, and sanctified the people; and they washed their clothes.
Exodus 19:14
Kitchen
Give us today our daily bread.
Matthew 6:11
Jesus said to them, "I am the bread of life. Whoever comes to me will not be hungry, and whoever believes in me will never be thirsty."
John 6:35
Pleasant words are a honeycomb,
sweet to the soul, and health to the bones.
Proverbs 16:24
Dining Room
You prepare a table before me
in the presence of my enemies.
You anoint my head with oil.
My cup runs over.
Psalm 23:5
In homes, they broke bread and shared meals with glad and generous hearts.
Acts 2:46
Go your way—eat your bread with joy, and drink your wine with a merry heart; for God has already accepted your works.
Ecclesiastes 9:7
Eat, friends!
Drink, yes, drink abundantly, beloved.
Song of Solomon 5:1b
Living Room
But as for me and my house, we will serve the Lord.
Joshua 24:15
Through wisdom a house is built;
by understanding it is established;
by knowledge the rooms are filled
with all rare and beautiful treasure.
Proverbs 24:3-4
Primary Bedroom
Let all that you do be done in love.
1 Corinthians 16:14
And above all things be earnest in your love among yourselves, for love covers a multitude of sins.
1 Peter 4:8
Above all these things, walk in love, which is the bond of perfection.
Colossians 3:14
Office
And whatever you do, work heartily, as for the Lord, and not for men.
Colossians 3:23
Whether therefore you eat, or drink, or whatever you do, do all to the glory of God.
1 Corinthians 10:31
I am the vine. You are the branches. He who remains in me and I in him bears much fruit, for apart from me you can do nothing.
John 15:5
Attic
'Long life to you! Peace be to you! Peace be to your house! Peace be to all that you have!
1 Samuel 25:6
Watch! Stand firm in the faith! Be courageous! Be strong! Let all that you do be done in love.
1 Corinthians 16:13-14
So may it please you to bless the household of your servant, so that it might remain forever in your presence, because you, Lord God, have spoken, and from your blessing may the household of your servant be blessed forever.
52 Samuel 7:29 (ISV)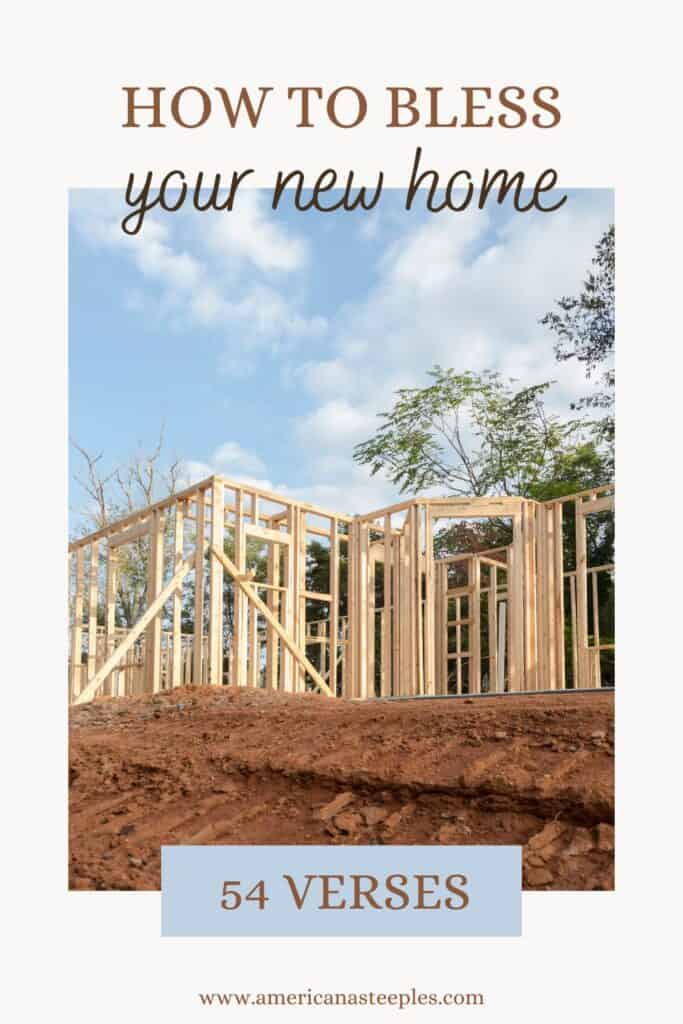 Proverbs about building a house
Every wise woman builds her house,
but the foolish one tears it down with her own hands.
Proverbs 14:1
The curse of the Lord is in the house of the wicked: but he blesseth the habitation of the just.
Proverbs 3:33 (KJV)
For Yahweh gives wisdom.
Out of his mouth comes knowledge and understanding.
Proverbs 2:6
Bible verses about being a good neighbor
Let each one of us please his neighbor for that which is good, to be building him up.
Romans 15:2
The second is like this, 'You shall love your neighbor as yourself.'
Mark 12:31
"Woe to him who builds his house by unrighteousness,
and his upper rooms by injustice,
who makes his neighbor serve him for nothing
and does not give him his wages."
Jeremiah 22:13 (ESV)
Bible verses about our heavenly home
For we know that if the earthly house of our tent is dissolved, we have a building from God, a house not made with hands, eternal, in the heavens.
2 Corinthians 5:1
In my Father's house are many homes. If it weren't so, I would have told you. I am going to prepare a place for you.
John 14:2
My people will live in a peaceful habitation,
in safe dwellings,
and in quiet resting places.
Isaiah 32:18
Surely goodness and mercy shall follow me all the days of my life: and I will dwell in the house of the Lord for ever.
Psalm 23:6 (KJV)
Final thoughts on Bible verses for new home construction
With all these Bible verses, you could spend all day on your new home construction site writing on every stud in every room of your new home. But we don't want to forget about prayer too.
Prayer is an important part of trusting God with our new home construction. We should pray for wisdom, for strength, for patience and for the ability to trust Him completely with the process.
As we pray, we will discover that there are times when it seems like there is no way out of a problem or situation. But when we look at the situation from God's perspective, it is clear that He has provided us with all the resources we need to get through any problem or obstacle that may come up along the way.

Teresa Trumbly Lamsam, Ph.D., is an accomplished Social Scientist and Journalist. Passionate about establishing credibility in the digital realm, she champions transparent and trustworthy online content. She is dedicated to producing content that sparks curiosity and nourishes the heart and mind.