36 powerful Bible verses for runners
No matter the race you have before you, the Bible offers encouraging and motivating verses to sustain you to your goal. Whether you are walking or running to that goal, these Bible verses for runners will inspire you!
Running takes self-discipline, and even experienced runners need motivation from time to time. I'm not a natural exercise fanatic. It takes a push to get me going and to sustain me in my fitness goals.
I'm successful in my exercise program when I think of fitness as a way to draw closer to God. After all, we are to present our "bodies as a living sacrifice, holy and pleasing to God—this is your true and proper worship." – Romans 12:1
God created us as temples for his Holy Spirit. "Do you not know that your bodies are temples of the Holy Spirit, who is in you, whom you have received from God? You are not your own; 20 you were bought at a price. Therefore honor God with your bodies." – 1 Corinthians 6:19-20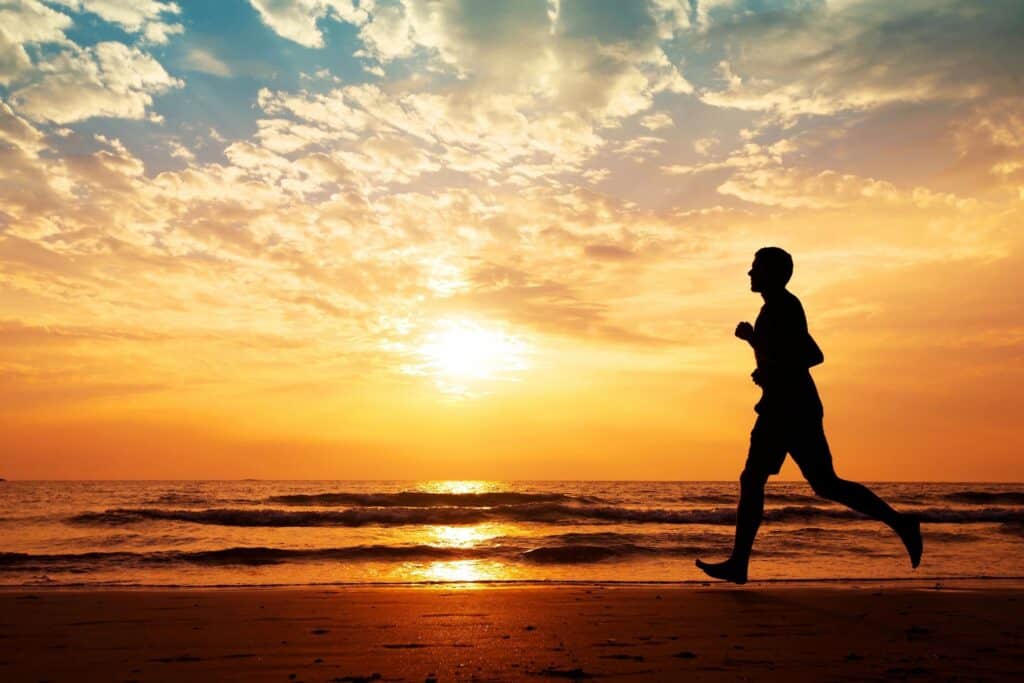 In my prayers, I've been asking God to help me fully experience the "temple" he intended for me. It's been too many years since I've treated my body as an instrument of righteousness.
The two scriptures above plus the 34 more below have helped me glorify God in spirit and in body. My hope is that you find inspiration to keep running – no matter the race set before you.
Unless otherwise noted, all scriptures are in the NIV translation. When I want to read verses in another translation, I use the Bible Gateway online.
Bible verses to help you finish the race
Proverbs 4:12
When you walk, your steps will not be hampered; when you run, you will not stumble.
Isaiah 40:30-31
Even youths grow tired and weary,
and young men stumble and fall;
but those who hope in the Lord
will renew their strength.
They will soar on wings like eagles;
they will run and not grow weary,
they will walk and not be faint.
2 Timothy 4:7
I have fought the good fight, I have finished the race, I have kept the faith.
Psalms 119:32
I run in the path of your commands,
for you have broadened my understanding.
2 Timothy 2:5
Similarly, anyone who competes as an athlete does not receive the victor's crown except by competing according to the rules.
You might enjoy this inspirational story: God will supply all your needs: A step of faith
Bible verses for when we need press on to a goal
Endurance is the mark of a mature Christian as well as an experienced runner. We are to count our trials as pure joy for the endurance of those trials produces a steadfast faith. When we remain steadfast under trials, God promises that we will receive the crown of life.
James 1:2-4
Consider it pure joy, my brothers and sisters, whenever you face trials of many kinds, because you know that the testing of your faith produces perseverance. Let perseverance finish its work so that you may be mature and complete, not lacking anything.
James 1:12
Blessed is the one who perseveres under trial because, having stood the test, that person will receive the crown of life that the Lord has promised to those who love him.
Hebrews 12:1-3
Therefore, since we are surrounded by such a great cloud of witnesses, let us throw off everything that hinders and the sin that so easily entangles. And let us run with perseverance the race marked out for us, fixing our eyes on Jesus, the pioneer and perfecter of faith.
For the joy set before him he endured the cross, scorning its shame, and sat down at the right hand of the throne of God. Consider him who endured such opposition from sinners, so that you will not grow weary and lose heart.
Romans 5:3-4
Not only so, but we also glory in our sufferings, because we know that suffering produces perseverance; perseverance, character; and character, hope.
Philippians 3:13-14
Brothers and sisters, I do not consider myself yet to have taken hold of it. But one thing I do: Forgetting what is behind and straining toward what is ahead, I press on toward the goal to win the prize for which God has called me heavenward in Christ Jesus.
Proverbs 4:25-26
Let your eyes look straight ahead;
fix your gaze directly before you.
Give careful thought to the paths for your feet
and be steadfast in all your ways.
Philippians 1:6
Being confident of this, that he who began a good work in you will carry it on to completion until the day of Christ Jesus.
1 Corinthians 9:24-26
Do you not know that in a race all the runners run, but only one gets the prize? Run in such a way as to get the prize. Everyone who competes in the games goes into strict training.
They do it to get a crown that will not last, but we do it to get a crown that will last forever. Therefore I do not run like someone running aimlessly; I do not fight like a boxer beating the air.
Galatians 5:7
You were running a good race. Who cut in on you to keep you from obeying the truth?
2 Samuel 18:23
He said, "Come what may, I want to run."
So Joab said, "Run!" Then Ahimaaz ran by way of the plain and outran the Cushite.
Hebrews 12:11-13
No discipline seems pleasant at the time, but painful. Later on, however, it produces a harvest of righteousness and peace for those who have been trained by it.
Therefore, strengthen your feeble arms and weak knees. "Make level paths for your feet," so that the lame may not be disabled, but rather healed.
2 Corinthians 1:7
And our hope for you is firm, because we know that just as you share in our sufferings, so also you share in our comfort.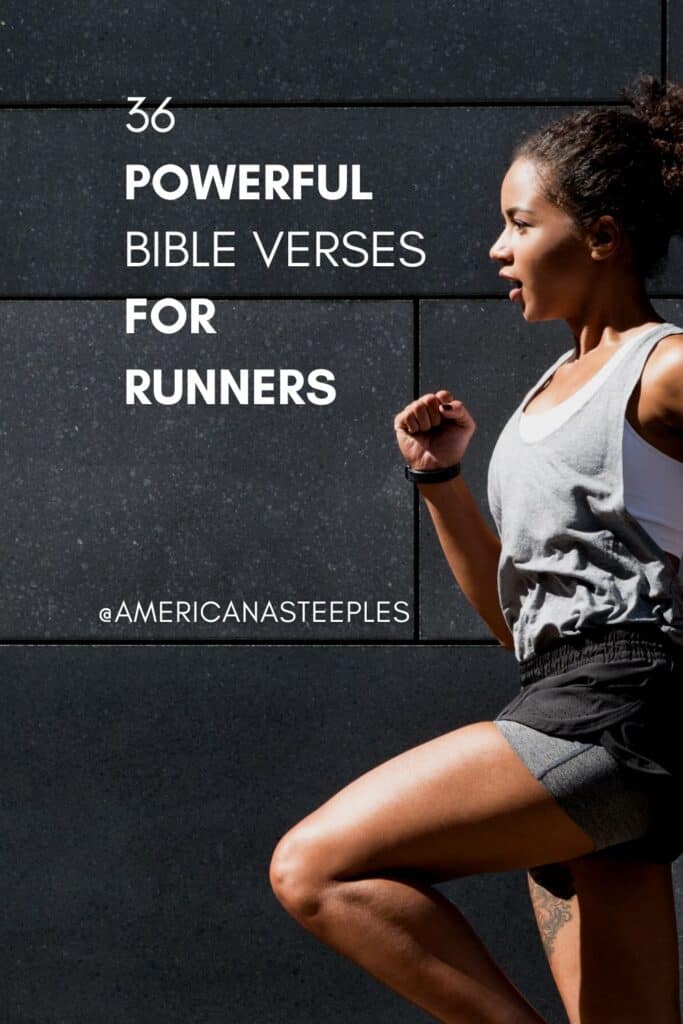 Bible verses for runners who need strength
Joel 2:7
They charge like warriors;
they scale walls like soldiers.
They all march in line,
not swerving from their course.
Deuteronomy 31:6
Be strong and courageous. Do not be afraid or terrified because of them, for the Lord your God goes with you; he will never leave you nor forsake you.
Phillipians 4:13
I can do all this through him who gives me strength.
Colossians 3:23
Whatever you do, work at it with all your heart, as working for the Lord, not for human masters.
2 Timothy 1:7
For the Spirit God gave us does not make us timid, but gives us power, love and self-discipline.
1 Chronicles 16:11
Look to the Lord and his strength;
seek his face always.
Isaiah 40:29
He gives strength to the weary
and increases the power of the weak.
Joshua 1:9
Have I not commanded you? Be strong and courageous. Do not be afraid; do not be discouraged, for the Lord your God will be with you wherever you go.
Psalms 29:11
The Lord gives strength to his people;
the Lord blesses his people with peace.
Habakkuk 3:19
The Sovereign Lord is my strength;
he makes my feet like the feet of a deer,
he enables me to tread on the heights.
Bible verses for injured runners
Injuries often sideline us, thwarting our plans. If we're not careful, those injuries can lead to spiritual and emotional despair. I'll be honest with you – I'm not good with injuries! I get so incredibly frustrated when an injury takes me off course. It can feel as though I'll never get back to where I was.
I tend to throw up my hands in dismay and think that God is somehow offline. How could he not want me to succeed? I don't understand!
That, however, is distorted thinking. It's a thought – a pattern of thought I repeat every time my physical pursuits are sidetracked.
But I've developed a psych trick that helps me with negative thinking. The first thing I do is simply say, "That's a thought."
As we know, we have a thought, then our attitudes follow, and we end up having behavior that is based on distorted, negative thinking.
We can use God's word to chase away and replace those negative thought patterns. Recovering from an injury is hard work – physically, emotionally, and spiritually.
As runners, we never shy away from the physical part of healing, but maybe we can use some help with the emotional and spiritual side of things.
Reading and praying these Bible verses is a great place to start.
Proverbs 17:22
A cheerful heart is good medicine,
but a crushed spirit dries up the bones.
Isaiah 41:10
So do not fear, for I am with you;
do not be dismayed, for I am your God.
I will strengthen you and help you;
I will uphold you with my righteous right hand.
John 14:27
Peace I leave with you; my peace I give you. I do not give to you as the world gives. Do not let your hearts be troubled and do not be afraid.
Exodus 23:25
Worship the Lord your God, and his blessing will be on your food and water. I will take away sickness from among you.
1 John 5:14-15
This is the confidence we have in approaching God: that if we ask anything according to his will, he hears us. And if we know that he hears us—whatever we ask—we know that we have what we asked of him.
Jeremiah 17:14
Heal me, Lord, and I will be healed;
save me and I will be saved,
for you are the one I praise.
Psalms 146:8
The Lord gives sight to the blind,
the Lord lifts up those who are bowed down,
the Lord loves the righteous.
Final thoughts on Bible verses for runners
As runners, crossing the finish line may be the ultimate goal, but the purpose for our journey has more to do with what happens during the race.
Health benefits are important, but in my mind, the mental and spiritual side of running delivers a more powerful punch.
What's your purpose for running? Do you have a favorite Bible verse to share with us? Share in the comments below