All roads lead to historic wonders

A tour of 9 remarkable Marian Shrines to engage your wonder
By Teresa Trumbly Lamsam, Ph.D.
Founder & Editor
We begin our historic church tours with a series of articles on the old world charm of Portugal's Marian Shrines. Along the way, we'll introduce you to travel bloggers who help you indulge your imagination as you taste the world's best port wine, drive the winding rural roads through quaint villages, experience history, and connect with friendly people who want to share their astounding heritage.
In this first article, we explore the Marian Shrines in the Porto and Braga regions of northern Portugal, including stops along the Way of St. James pilgrimage.
Planes, trains, automobiles, and cruise ships will deliver you to your pilgrimage destinations in Portugal. If you want to spend more time at the religious sites, then opt for a rental car or small, private tour led by a local guide.
Your point of entry into Portugal is likely to be the capital city of Lisbon or Porto (Oporto), the 2nd largest city. For this article, we start on Portugal's northern coast in one of Europe's oldest centers – the city of Porto, with its historic center named as a UNESCO World Heritage Site.
What are the Marian Shrines?
A Marian shrine is a Roman Catholic church or chapel that has been dedicated to the Virgin Mary. Shrines are places in which pilgrims can visit a holy place for devotion to a specific saint or Mary. A miracle or apparition of the saint or the Blessed Mother must have occurred at or near the location.
What is Porto Portugal known for?
As you might suspect, Portugal and Port wine derive their names from the ancient city Oporto. What you might not suspect, is the colorful scene the city impresses upon visitors. Porto, also called Granite City, is built on steep hills descending from two mountain ranges that spill into the Atlantic in this port city.
Colorful buildings, red-tiled roofs, and the wide range of architecture are all due to centuries of diverse rulers, including Visigoths, Romans, and Moors – who can be credited for the beautiful Azulejo blue tiles that cover building facades from inside and out.
Sé do Porto
In the historic old town, sits one of Portugal's oldest and most important monuments of Romanesque architecture – the Porto Cathedral (Sé do Porto) or Our Lady of Assumption. There are at least 7 other names for this Marian shrine. It can get confusing.
But, if you go to the highest point in the city and see a fortress-like granite building flanked by double towers and a medieval rose window above the portal doors – you're at the right place. The structure has been modified numerous times since the 12th century, namely with Baroque and Gothic additions.
The interior's ornamentation grew over the centuries as wealthy nobility and merchants dedicated chapels and altars. The famous 14th century Gothic cloisters feature seven Azulejo-tiled panels depicting the Song of Songs.
The main altarpiece is covered in gold, and supposedly, the silver altar was painted over in the early 19th century to hide it from Napoleon's invading army. You can also view cases of jeweled objects, ancient texts, and historic liturgical items.
You might also enjoy this article on English countryside churches AND this Norman Church coloring page that one of our readers made exclusively for Americana Steeples! How awesome is that!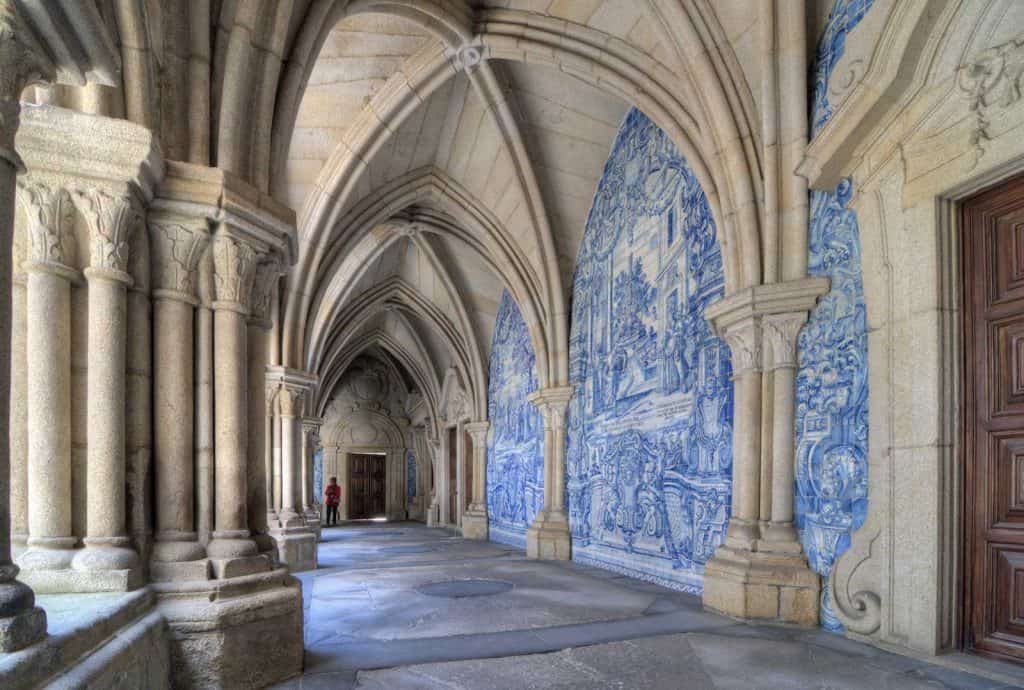 Churches in Viana do Castelo
Much like Porto, the port city of Viana do Castelo, an hour's drive north, is surrounded by mountains and water. Known for beautiful scenery and views, the city is an architectural gem.
A lesser known bit of history is the city's legacy of fishing, in particular the salting and drying of cod fish. Fishing has long been a dangerous profession and perhaps even more so in the tumultuous waters off of Portugal.
Thus, it's only appropriate that the most popular city festival, which occurs over 3 days in August, draws hundreds of thousands of pilgrims and tourists to honor the village patron saint – Our Lady of Agony.
Within the grandeur and festivities of the contemporary Romaria de Nossa Senhora d'Agonía with its fireworks, trinkets, and throngs of tourists, a religious procession remains center place. The thankful fishermen lead a maritime procession, carrying the image of the Virgin as they walk upon streets carpeted with floral artwork.
Santuário da Senhora da Agonía
The church at the center of this activity and year-round pilgrimages was once a lowly chapel built in 1674. In the 18th century, the Church of Our Lady of Agony (Santuário da Senhora da Agonía) was constructed over the chapel, and later that century, enlarged once again.
What can you expect to see at Our Lady of Agony?
Altar pieces and pulpit adorned with gilded woodcarvings
Marian gilded altar by André Soares
18th century organ
Artwork by Italian painter Pascoal Parente
A nave in the shape of an octagon
Wooden central staircase added in the 1800s
Igreja Matriz de Viana do Castelo
At first glance, the massive granite structure of the Sé de Viana, Cathedral of St. Mary the Great, presents a Romanesque style with its battlement topped towers flanking the portal. However, the portal – the decorative arch that frames the doors – exposes its 15th century Gothic roots.
What does the facade call to mind for you? You can see an almost fortress-like quality to the exterior, as though entering the building will offer you sanctuary.
Yet, the Romanesque fortress gives way to a Gothic-like portal, substantial both in size and ornamentation, perhaps calling us to something much more spiritual. The three ornamental archivolts (molding or band that follows the underneath of an arch) within the deeply cut portal (entrance) are supported by six sculptures representing apostles. Around one band, scenes from the Passion of Christ are sculpted.
Expect to be awed as you enter. The drab granite exterior doesn't prepare you for the brilliance of the interior. Glittering gold surrounds and consumes altarpieces framed by ornate carvings. Calming blue Azulejo tiles cover walls. Sparkling crystal chandeliers draw your eyes upward to intricate plaster carvings set amidst the soft colors painted on the ceilings.
What is there to do in and around Porto and Braga?
Matt, a Spain-based British travel writer, can you tell you all about a relaxing day trip just south of Porto. In his article about the coastal town of Aveiro you will find everything you need to know about what tourists call the Venice of Portugal — from "how-to-get-there" tips to the moliceiro boats to where to stay.
Alex from the travel site EarthOSea travels to learn, explore, and rediscover. We can't think of anything better for those of us who travel for architecture, history, and churches. Alex has two articles to help us with things to do in Porto and tips for a day trip from Porto to Braga.
Her 3 Days in Porto guide is so comprehensive! You will find everything from photo tips to a day-by-day itinerary. Alex's Porto to Braga Day Trip Itinerary is just as detailed. Plus, she has some tips on how to get to Bom Jesus do Monte, another must-see church.
"Although I prefer going to Bom Jesus with the funicular, there is also an option to climb up to there," Alex writes. "Exactly on the right side of the road, before the funicular is the main staircase leading you to the Sanctuary of Bom Jesus do Monte. However, climbing up to Bom Jesus can be quite tiring and usually takes around an hour to get there."
For retirement lifestyle blogger Jan Wild, a visit to Portugal was a chance to reconnect to her family lineage. Her great-grandparents "eloped from Portugal on a ship bound for parts unknown." She and her husband describe their 4-day stay in Porto, offering us tips for walking tours, buying souvenirs, and what to eat (or not eat, in some cases).
Souvenir tip from a pro

Portugal has much to offer to the keen shopper. Souvenirs such as azulejo (tiles), embroidered textiles, filigree jewellery and local pottery will suit those with an artistic bent, whilst food and drink items such as delicious delicatessen goods, high quality port and wine, piri piri sauce, and tinned sardines will appeal to gourmet travellers.
Food & Travel blogger
From Porto to Braga and points in between
Known as the country's religious capital and often referred to as Portugal's answer to Rome, Braga is packed with historic churches and architecture – more than you can see in a day.
In fact, forget the day trip. Make this an overnight destination. Take some time to stroll Braga's narrow cobblestone lanes to see charming shops, colorful gardens, pedestrian squares, and hidden historical sites.
Portugal's third-largest city is not crowded with tourists, unlike Lisbon and even Porto. With a laid back atmosphere and friendly people, Braga makes a perfect base for exploration.
Cathedral of Braga (Santa Maria de Braga Cathedral)


The first cathedral in Portugal, the Sé de Braga, was dedicated to the Virgin Mary in 1089 – that's before Portugal was even a country! Romanesque was the original style – as it was with most Portuguese churches in the region. But over the century the structure took on Gothic and Baroque decorations.
At this point, you know to expect gilded opulence in the Portuguese church interiors. Santa Maria de Braga does not disappoint.
As you approach the western façade, take note of three arches framing the portal, a large rounded Romanesque arch and two pointed Gothic arches. A nook between the bell towers contains a larger-than-life statue of Mother and Child.
Inside the rather dark interior, you'll see three aisles, a transept (cross-shaped sanctuary), and five chapels on the eastern side of the building. Some of the highlights of this cathedral include:
Manueline statue of Our Lady of the Milk nursing the infant Jesus.
A pair of 18th-century gilded organs, tremendous in size.
An incredibly ornate Baroque high choir featuring stalls made of carved and gilded wood.
18th-century painted tiles by António de Oliveira Bernardes in the Chapel of Saint Peter of Rates.
An effigy tomb in the early 14th century Capela da Glória.
The Cathedral Treasury and Museum of Sacred Art housing much of Braga's most valuable art.
Shrine of Nossa Senhora do Sameiro


Sitting high upon a hill, one of Portugal's most visited Marian shrines offers stunning views of Braga and a perfect location for watching the sunset. Fifteen minutes from the city center, the Shrine of Our Lady of Sameiro may be best known for a magnificent altar featuring a silver tabernacle created by Italian sculptor Eugenio Maccagnani (1852-1930).
Built over several decades of the late 1800s, the church is not among the oldest but certainly one of the grandest. Works of art include:
In the crypt, painted tile panels by Cherub Lapa.
In the presbytery, a large painted panel by Oscar Casares, who also painted an official portrait of Pope Francis, which took 2,100 hours to complete.
The late Clara Meneres, a renowned Portuguese sculptor and art professor, was responsible for four sculptures – the archangels St. Michael, St. Raphael, and St. Gabriel, and the Guardian Angel of the Homeland.
Church of Santa Maria Madalena
Also known as Falperra Church, this early 18th century Baroque church – shaped like a heptagon – was a project by Braga-born sculptor and architect André Soares (1720-1769).
Soares' work was characterized by elaborate Baroque decoration, which on this church is most evident on the exuberantly adorned granite façade. Two towers flank the sculpted throne and image of Saint Mary Magdalene. The towers are decorated with busts of Saint Martha and Saint Lazarus. Surrounding the church are the grand sets of staircases and a national forest.
The church itself already existed, originally as a 16th century chapel. Soares was commissioned to rebuild the façade and a gilded wood altarpiece after an earthquake in 1755 nearly destroyed the building.
Shrine of Nossa Senhora da Abadia (Our Lady of the Abbey Sanctuary)
Experts claim this shrine, located in Santa Maria de Bouro, Amares, is the oldest in Portugal. The existing church was built in the 17th century on the site of an original sanctuary that dates back to the 7th or 8th centuries.
Located within Portugal's only national park, the Gêres, the idyllic mountainous setting adds to an ambiance of tranquility. The drive itself is worth the trip.
But for some tourists, the narrow winding roads up and down hills can seem harrowing, albeit beautiful. One visitor wrote that some local drivers get impatient with overly cautious foreign drivers!
Set all of that aside, and instead, immerse yourself in the historical, spiritual, and architectural journey. The granite Baroque façade of Our Lady of the Abbey Sanctuary is not as elaborate as some, but the church interior has been carefully maintained by the parish.
In front of the church is a building that once housed visiting pilgrims. The space now serves as the Museum of Sacred and Ethnographic Art of the Confraternity of Our Lady of the Abbey, which features folklore, crafts, a linen collection, and religious statuary.
Visit Guimaraes, Portugal

Just a half hour southeast of Braga lies the city of Guimarães, known as the cradle or Portuguese civilization. It was the birthplace of Afonso I of Portugal, the first Portuguese king. The city has played a major historical role for centuries:
Archaeological evidence points to the existence of permanent settlements here since the Copper Age, perhaps late 4th to 3rd millennium BC.
When it was settled in the 9th century it was called Vimaranes, perhaps after the warrior Vímara Peres, a vassal (like a knight) of the King of Leon, conquered the area.
In 1128, the Battle of São Mamede that was fought near Guimarães ensured Portugal's independence.
The role Guimaraes played in the formation of Portugal was part of why UNESCO declared the historic centre of Guimarães a recipient of an Outstanding Universal Value designation. UNESCO documents refer to the city as an "exceptionally well preserved town."
According to the UNESCO, "Guimarães is of considerable universal significance by virtue of the fact that specialized building techniques developed there in the Middle Ages were transmitted to Portuguese colonies in Africa and the New World, becoming their characteristic feature."
Marian shrines in Guimaraes, Portugal
The mountain overlooking Guimarães provides spectacular views of this ancient city as well as hiking trails and hidden caves to explore. Depending on the timing of your visit, a visit to the mountaintop sanctuary of Our Lady of Penha also provides a respite from the heat. You can skip the drive up a windy, cobblestone road by taking the old cable car.
The Sanctuary of Nossa Senhora do Carmo da Penha is an important contemporary architectural contribution of Porto's famed architect José Marques da Silva, who started his training at the University of Porto before he left for Paris in 1889, where seven years later he received the designation of Graduate Architect from the French government.
He wanted the Art Deco-style sanctuary to blend in with the rocky mountainous setting, and as a result, the church is built almost entirely from granite from the region.
Back in the historic center of Guimarães you will find the other Marian shrine, which is a much older structure. Much, much older!
The Church of Nossa Senhora da Oliveira, dedicated to Our Lady of the Olive Tree (the Virgin Mary), was originally a Benedictine monastery founded in the year 949. Only part of the original structure remains —a chancel, now preserved in the adjacent Alberto Sampaio Museum.
As with other Portuguese churches, the architectural style changed over the centuries. By the 12th century, the church took on Romanesque style. The Gothic renovations occurred in the 14th century. During the middle ages, the church was a popular destination for pilgrims on the Camino de Santiago, in English known as the Way of St. James.
The church, which was classified a national monument in 1910, has so much to offer in its interior architecture and art, including:
A 16th century Manueline bell tower
A chapel enlarged by King Peter II in the 17th century and the vault featuring his coat of arms
18th century high altar and Baroque paintings by Pedro Alexandrino de Carvalho (1729-1810) of Lisbon who was known as the painter of the friars
A high choir with a neoclassical wooden organ from the 1830s
Things to do in Guimaraes and Braga
Who better to offer us advice on visiting Guimarães and Braga than an award-winning travel writer? Londoner Fiona Maclean, who is also a marketing consultant, encourages us to get away from the typical Portugal destinations and to venture into the country's interior.
Her article for London Unattached takes us behind the scenes with beautiful photography and information on culture, life, and sites in Guimarães and Braga. Let me know in the comments your favorite photo. Mine is the photo of the older Portuguese gentlemen in the coffee shop. Priceless!
Next article: More Marian Shrines and churches in Portugal
In the next installment of our Portugal pilgrimage, we will explore one of the most picturesque regions in Europe — the Douro River Valley, truly a place to behold. For some 2,000 years, this UNESCO World Heritage site has been molded by human hands, transforming steep mountainsides into stunning slopes of terraced vineyards.
It's also here that you will experience the grandeur of ancient churches and shrines.
As always, we want to hear your ideas for future stories, and not to mention, we would love to feature an article about your church and the amazing stories from your steeple.

Teresa Trumbly Lamsam, Ph.D., is an accomplished Social Scientist and Journalist. Passionate about establishing credibility in the digital realm, she champions transparent and trustworthy online content. She is dedicated to producing content that sparks curiosity and nourishes the heart and mind.