30 Best Bible Verses for College Students
Finding the best Bible verses for college students is easy when searching God's Word because God's truth is rooted in many new beginnings and experiences.
Transitioning from high school to college is not an easy process. For some, it is harder than others, but for all, there are few things that make someone feel like a young adult rather than a kid than going to college.
We have provided 30 powerful Bible verses below to help you, or the college student you know, on the journey. We pray that some of these become their favorite Bible verses that they can cling to during the four years and beyond.

Please note: Unless otherwise stated, all verses are from the New International Version. For your preferred translation, we recommend Bible Gateway.
Bible verses for the college journey
The beginning of knowledge in college is knowing that God already sees the whole college journey. He already knows what will happen, and wants what is best for you (or your loved one).
Yes, there will be a lot of growth. At times it will seem like God is not answering prayers, but because it is a time of intense growth, God may be walking with you through a process.
I want you to know that during this time, God is your refuge.
The word "refuge" is in the Bible often. In Psalms alone, the word refuge is mentioned 43 times. Many of these verses instruct us to take refuge in Him.
In Psalm 9:9, however, the author explains what it means for God to be a refuge. The verse says:
"The LORD is a refuge for the oppressed, a stronghold in times of trouble." (Psalm 9:9.) In the ESV translation, the word refuge is replaced with "stronghold", which means that God being a refuge and God being a "stronghold" are interchangeable. The Hebrew word for this, miś·gāḇ, is translated into stronghold, refuge, and defense in places where it is used (source: Hebrew Concordance.)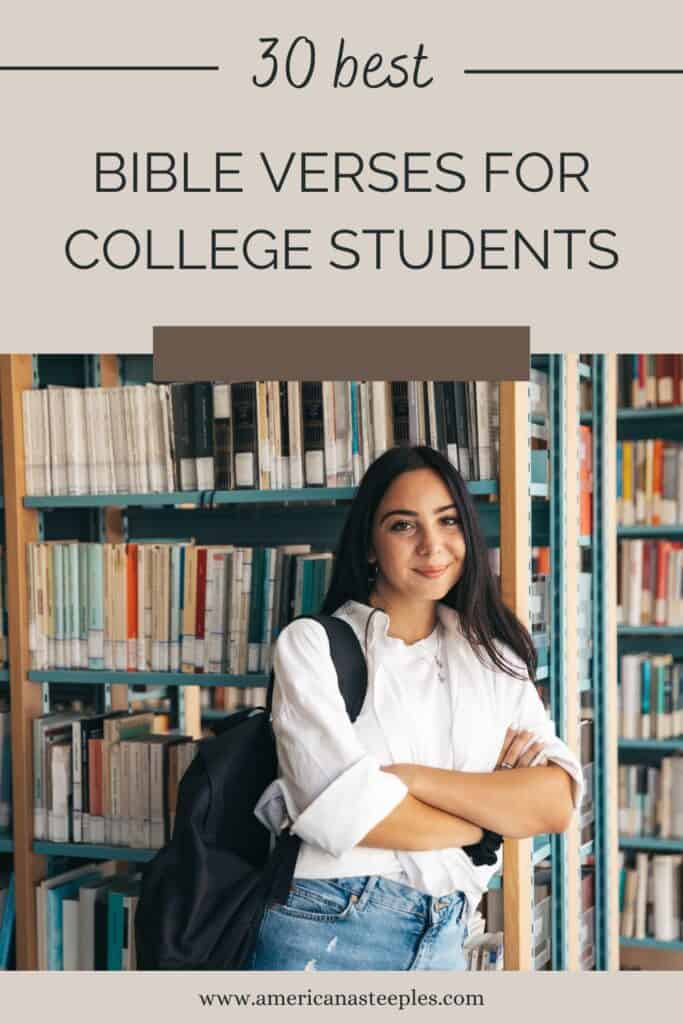 This means that God may not remove trouble on your journey, but He will see you through it by being your stronghold, your defense, and your refuge. No matter what these next few years bring, lean into God during this process and He will see you through!
Try these other Bible verses below to cling onto, memorize, and hold close to you during your college journey.
Joshua 1:9
Have I not commanded you? Be strong and courageous. Do not be afraid; do not be discouraged, for the Lord your God will be with you wherever you go." (Joshua 1:9)
Proverbs 9:10
The fear of the Lord is the beginning of wisdom, and knowledge of the Holy One is understanding. (Proverbs 9:10)
Hebrews 13:5-6
Keep your lives free from the love of money and be content with what you have, because God has said, "Never will I leave you; never will I forsake you." So we say with confidence, "The Lord is my helper; I will not be afraid. What can mere mortals do to me?" (Hebrews 13:5-6)
John 17:17
Sanctify them by the truth; your word is truth. (John 17:17)
Psalm 119:05
Your word is a lamp for my feet, a light on my path. (Psalm 119:105)
Philippians 2:3-4
Do nothing from selfish ambition or conceit, but in humility count others more significant than yourselves. Let each of you look not only to his own interests, but also to the interests of others. (Philippians 2:3-4 ESV)
Psalm 27:4
One thing I ask from the Lord, this only do I seek: that I may dwell in the house of the Lord all the days of my life, to gaze on the beauty of the Lord and to seek him in his temple. (Psalm 27:4)
Congratulations on the beginning of your journey! May God bless you by providing you abundantly more than what you pray for:
"Now to him who is able to do immeasurably more than all we ask or imagine, according to his power that is at work within us." (Ephesians 3:20)
May your college experience be filled with praying bold Ephesians 3:20 prayers!
Bible verses for new seasons of life
The college journey is full of new seasons in your life. What an exciting time! During this time, seeking God during the great times and the tough times will create consistency in a time that is known to be pretty inconsistent.
The Bible verses for college students that we chose in this section focus on a few of God's characteristics: truthfulness, acceptance, and good.
We found that truth is one of the most important words to cling to when seeking God during new seasons of life.
If we can seek God daily, no matter what is going on in life, we will cling to His truth. His truth is the same yesterday, today, and forever (Hebrews 13:8) so we know that as life changes, His truth will always be the same. Try these Bible verses below to help you embrace new seasons of life.
Proverbs 3:5-6
Trust in the Lord with all your heart and lean not on your own understanding; in all your ways submit to him, and he will make your paths straight. (Proverbs 3:5-6)
Romans 15:7
Accept one another, then, just as Christ accepted you, in order to bring praise to God. (Romans 15:7)
John 8:32
Then you will know the truth, and the truth will set you free." (John 8:32)
2 Timothy 2:15
For we are God's handiwork, created in Christ Jesus to do good works, which God prepared in advance for us to do. (2 Timothy 2:15)
Psalm 25:4-5
Show me your ways, Lord, teach me your paths. Guide me in your truth and teach me, for you are God my Savior, and my hope is in you all day long. (Psalm 25:4-5)
May God teach you His paths, and lead you steady on them. May you stay on the path during an exciting time in your life!
You may also enjoy reading: 50 Inspiring Bible Verses about Confidence
Bible verses for exam success for college students
Whether it's your first year, second year, third year, or fourth year, there is one constant: exams.
Every semester, you will face examination periods. God is with you! That doesn't mean don't study- God will reward hard work. But if you are facing stress based on exams, know that God is with you and will help provide you refuge and focus.
Psalm 16:8
I keep my eyes always on the Lord. With him at my right hand, I will not be shaken. (Psalm 16:8)
Deuteronomy 31:8
The Lord himself goes before you and will be with you; he will never leave you nor forsake you. Do not be afraid; do not be discouraged." (Deuteronomy 31:8)
Isaiah 26:3-4
You will keep in perfect peace those whose minds are steadfast, because they trust in you. Trust in the Lord forever, for the Lord, the Lord himself, is the Rock eternal. Isaiah 26:3-4
James 1:5
If any of you lacks wisdom, you should ask God, who gives generously to all without finding fault, and it will be given to you. (James 1:5)
1 Corinthians 15:57-58
But thanks be to God! He gives us the victory through our Lord Jesus Christ. Therefore, my dear brothers and sisters, stand firm. Let nothing move you. Always give yourselves fully to the work of the Lord, because you know that your labor in the Lord is not in vain. (1 Corinthians 15:57-58)
Philippians 4:6-7
Do not be anxious about anything, but in every situation, by prayer and petition, with thanksgiving, present your requests to God. And the peace of God, which transcends all understanding, will guard your hearts and your minds in Christ Jesus. (Philippians 4:6-7)
Isaiah 41:10
So do not fear, for I am with you; do not be dismayed, for I am your God. I will strengthen you and help you; I will uphold you with my righteous right hand. (Isaiah 41:10)
There is nothing to fear with exams. I know that is easier said than done, but years from now you will not remember the specifics of each exam; it will be a blur. So lean into where God is leading, and take each day one day at a time. God will provide the strength and energy for each day, especially on exam days.
Bible verses for sleepless nights
The mighty hand of God is a powerful one. Sometimes we underestimate the power of Christ, but He will always show up bigger than we imagine.
College is filled with sleepless nights. There are many reasons for sleepless nights in college: stress, fun parties, studying for exams, and more. No matter if you have a sleepless night for a good reason or a not-so-good reason, God is protecting you each day.
We pulled some of the best Bible verses for college students that are specifically for those nights when sleep is lacking. Save this post for those days so you can refer to God's truth to get you through the next day. Remember- sleep will come again!
James 1:2-4
Consider it pure joy, my brothers and sisters, whenever you face trials of many kinds, because you know that the testing of your faith produces perseverance. Let perseverance finish its work so that you may be mature and complete, not lacking anything. (James 1:2-4)
John 14:27
Peace I leave with you; my peace I give you. I do not give to you as the world gives. Do not let your hearts be troubled and do not be afraid. (John 14:27)
1 Peter 5:6-7
Humble yourselves, therefore, under the mighty hand of God so that at the proper time he may exalt you, casting all your anxieties on him, because he cares for you. (1 Peter 5:6-7 ESV)
Sometimes when we are tired or grumpy we don't seek God the same way. When the world pulls us away from God, lean into Him more. Those are the days that you will need Him the most.
Graduation Bible verses
It is hard to think that four whole years will fly by, but they will! Graduation will be here before you know it. Or maybe if you're reading this, it is already here. We provided some Bible verses to use to rest in God's truth during graduation season.
1 Thessalonians 5:16-18
Rejoice always, pray continually, give thanks in all circumstances; for this is God's will for you in Christ Jesus. (1 Thessalonians 5:16-18)
Isaiah 40:8
The grass withers and the flowers fall, but the word of God endures forever." (Isaiah 40:8)
Jeremiah 29:11
For I know the plans I have for you," declares the Lord, "plans to prosper you and not to harm you, plans to give you hope and a future. (Jeremiah 29:11)
Colossians 3:23
Whatever you do, work at it with all your heart, as working for the Lord, not for human masters (Colossians 3:23)
2 Timothy 3:16-17
All Scripture is God-breathed and is useful for teaching, rebuking, correcting and training in righteousness, so that the servant of God[a] may be thoroughly equipped for every good work. (2 Timothy 3:16-17)
Titus 2:7
Show yourself in all respects to be a model of good works, and in your teaching show integrity, dignity, and sound speech that cannot be condemned, so that an opponent may be put to shame, having nothing evil to say about us. (Titus 2:7 ESV)
A Prayer For College Students
O Lord, Allow the Holy Spirit to fill me up daily. I want to be a good student, but following You will always come first. When I have an anxious heart, help me lean into you and all good things that come from you. Help me keep a pure heart, focus on good grades, but also use this time to relish in who You are and to share You with those I know and meet along the way. You are the God of my salvation, be with me during the great times and the hard times. Thank you for your unfailing love, Amen.
Final Thoughts
Everyone has a different college experience. No matter what, God is with you on the journey. Pick one of the 30 Bible verses for college students above to be your favorite verse to cling to along the way, and see how God shows up in big, bold ways.