Note: This post contains affiliate links. Simply put, if you click on a product and make a purchase, we may make a small commission. This is at no extra cost to you. For more information, please see our disclaimer and privacy policy.
30 Sweet Bible verses for pregnancy announcements
There is no sweeter time than announcing your pregnancy! Whether you are a new parent or this is your seventh child, there is such joy in letting the world know that a new baby is on the way. If you want to add a faith element to your announcement, you may be looking for some bible verses for pregnancy announcements.
We wanted to provide you with multiple options to make your day of sharing the best it can be. This may have been a surprise baby or a baby you've been waiting a long time for. No matter what, what better way to thank God for the perfect gift than sharing some of His words during the big reveal?
Note: Unless otherwise noted, all scriptures are in the NIV translation. When I want to read verses in another translation, I use the Bible Gateway online.
We didn't want to just give you any list though. Use the table of contents below to find what is most relevant for you, or browse them all to see what is best for you and your growing family during this time!
Bible verses for pregnancy announcements
For the baby that is an answer to prayer
There is no feeling like the feeling of an answered prayer. This is especially true when the answered prayer is the miracle of life.
The Bible is full of examples of answered prayers. Many of these can be used specifically for a child being born. Others are a reminder of how our God answers prayers!
Any of these can be written next to an ultrasound or a pregnancy test to make a perfect photo opp!
"He has made everything beautiful in its time." (Ecclesiastes 3:11)
"I prayed for this child, and the Lord has granted me what I asked of him." (1 Samuel 1:27)
"Watch! Stand firm in the faith! Be courageous! Be strong!" (1 Corinthians 16:13)
"But God did hear and listened to my voice in prayer." (Psalm 66:19)
"Therefore I tell you, whatever you ask for in prayer, believe that you have received it, and it will be yours." (Mark 11:24)
Related: 39 powerful Bible verses for new parents
Bible verses for the rainbow baby
Rainbow babies are beautifully answered prayers. As a rainbow stood in Genesis to symbolize God's promise, rainbow babies show that God will never leave us.
Even if we don't have all the answers to why, we know that God will never forsake us. This is why pregnancy announcements with Bible verses are two-fold: they are a reminder for us of where God has led us, but they also give others hope.
"I will be glad and rejoice in you; I will sing the praises of your name, O Most High." (Psalm 9:2)
"Be joyful in hope, patient in affliction, faithful in prayer." (Romans 12:12)
"Not only so, but we also glory in our sufferings, because we know that suffering produces perseverance; perseverance, character; and character, hope." (Romans 5:3-4)
I lift up my eyes to the mountains—where does my help come from? My help comes from the Lord, the Maker of heaven and earth. (Psalm 121:1-2)
As you do not know the way the spirit comes to the bones in the womb of a woman with child, so you do not know the work of God who makes everything. (Ecclesiastes 1:15)
"You intended to harm me, but God meant it for good." (Genesis 50:20)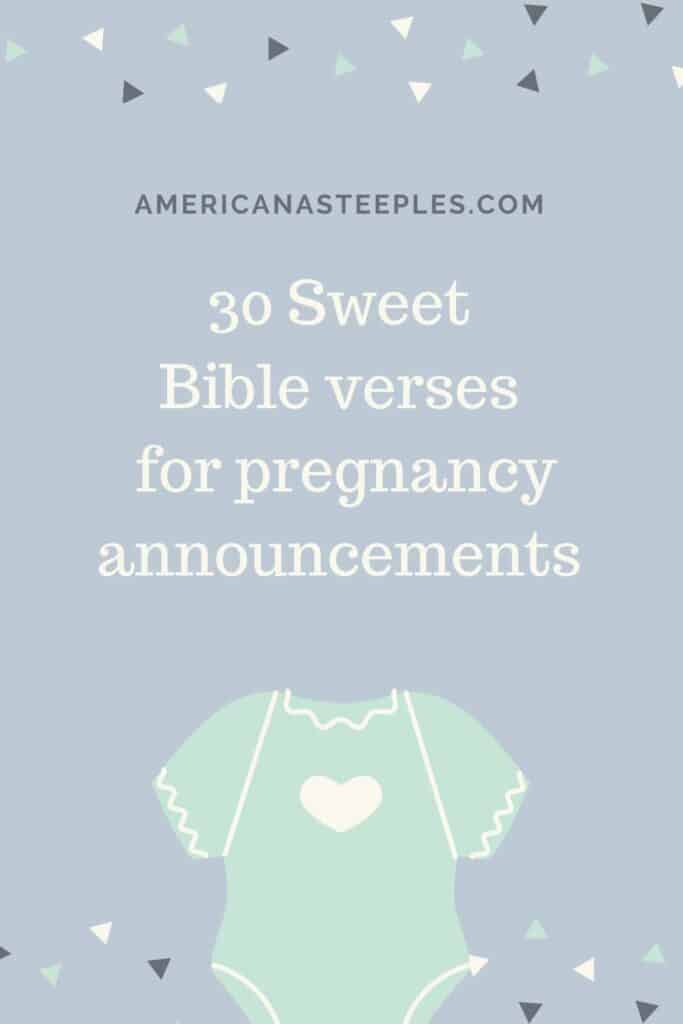 Bible verses for the unexpected baby
As someone who has three kids, and each one of them was a surprise, I truly believe that God's plan is always better than any plan we could ever create.
Having a baby on God's schedule instead of our own schedule requires a lot of "letting go and letting God." It is a cliche phrase, but when we have surprise babies we learn more about how many parts of our lives we need to drop and give God complete control.
If I could recommend anything, it would be to create a prayer journal (or buy one) and even just write one line a day in it to remind yourself later just how many prayers God answered. Even now, during hard times, I go back through that journal to remind myself how there is no right time like the perfect time of God.
"Behold, I am doing a new thing; now it springs forth, do you not perceive it? I will make a way in the wilderness and rivers in the desert." (Isaiah 43:19)
"But I trust in your unfailing love; my heart rejoices in your salvation. I will sing the Lord's praise, for he has been good to me." (Psalm 13:5-6)
"I am the Lord, who made all things, who alone stretched out the heavens, who spread out the earth by myself" (Isaiah 44:24)
"But by the grace of God I am what I am, and his grace to me was not without effect." (1 Corinthians 15:10)
Bible verses for baby girl pregnancy announcement or birth announcement
In today's world, the importance of reminding girls how strong and valuable they are is needed greatly. In a world where they are told "you can't" so often, we need to remind them from the start that they are precious and strong and made in God's image.
"She is more precious than rubies. None of the things you can desire are to be compared to her." (Proverbs 3:15)
For we are his workmanship, created in Christ Jesus for good works, which God prepared beforehand, that we should walk in them. (Ephesians 2:10)
"Be strong and courageous. Do not be afraid or terrified because of them, for the LORD your God goes with you; he will never leave you nor forsake you." (Deuteronomy 31:6)
For other Bible verses: 36 powerful Bible verses for runners
Bible verses for baby boy pregnancy announcement or birth announcement
"My son, if your heart is wise, then my heart will be glad indeed." Proverbs 23:15
"The father of a righteous child has great joy; a man who fathers a wise son rejoices in him." (Proverbs 23:24)
"Every good and perfect gift is from above, coming down from the Father of the heavenly lights, who does not change like shifting shadows." James 1:17
"Yet you desired faithfulness even in the womb; you taught me wisdom in that secret place." (Psalm 51:6)
Bible verses for a baby shower invitation
"Behold, children are a heritage of Yahweh. The fruit of the womb is his reward." (Psalm 127:3 WEB)
"As arrows in the hand of a mighty man, so are the children of youth." (Psalm 127:4)
"Sing to him; sing praises to him; tell of all his wondrous works!" (1 Chronicles 16:9)
"For you created my inmost being; you knit me together in my mother's womb. I praise you because I am fearfully and wonderfully made." (Psalm 139:13-14)
Learn more about Baby Shower Traditions Around the World.
Bible verses for a birth announcement
It's time to announce the newest member of the kingdom of heaven!
When you are ready to share the good news, no matter if you do it through social media or an announcement card, these Bible verses are great ones to share with the news. The ones below are for neutral announcements so they can be shared whether you gave birth to a boy, a girl, or multiples!
"The Lord has done it this very day; let us rejoice today and be glad." (Psalm 118:24)
"My frame was not hidden from you when I was made in the secret place, when I was woven together in the depths of the earth." (Psalm 139:15)
"Make a joyful noise to the Lord, all the earth!" (Psalm 100:1)
"Let the children come to me, and do not hinder them, for to such belongs the kingdom of God." (Luke 18:16).
Dear Heavenly Father, for new moms and experienced moms alike we know one thing: Every precious bundle of joy is truly a gift from you. We will not have fear of the future because you are with us. We ask for your sweet presence in this beautiful new life. Help us to raise children of God. In the name of Christ Jesus, Amen.
Final Thoughts
There are many emotions when it comes to new infants coming into this world. This may be your first pregnancy or your last pregnancy, but God has a plan for every single one of your children.
A special way to show the goodness of God is to show the world that the ways of God are always good. Using Bible verses for pregnancy announcements is not only a wonderful way to honor your daughter or son, but it is a great way to talk about your faith as well.