God's blessings "Reine Down"

A spark of inspiration leads Ohio mom
to discover a passion for photography
By Kimberly Purple
Storyteller
When I was a child, I spent many days at my maternal grandparents' home, a beautiful old red brick 1850's Victorian surrounded by peaceful scenes of tree-rich acreage and bubbling streams of water.
Outside, a stately pine tree stood watch over the front yard. Pear trees lined the path running back toward the creek. Lilacs encircled the property, and apple trees always promised a fall bounty.
Inside, the house foyer featured a grand wooden bannister, well-worn from years of grandchildren sliding down it. In the dining room hung an amazing aerial photo of the house and property. To this day, remembering that picture brings a smile.
I now realize that "smile" was a spark of photography inspiration, emerging deep down inside of me. Many, many years later, I starting taking pictures of sunsets, churches, old barns, and more – all of those things are a passion of mine.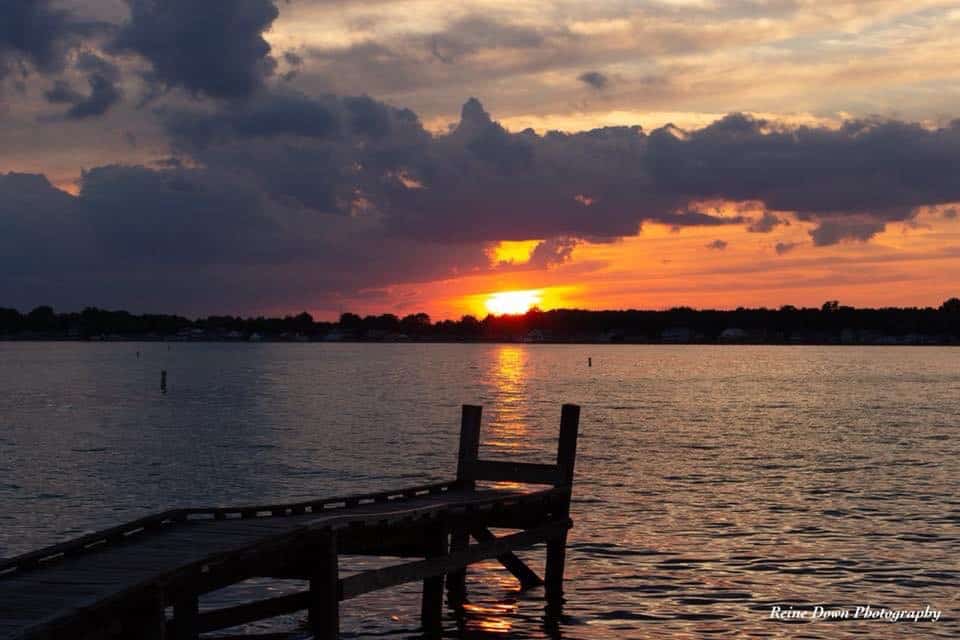 The sunsets on Buckeye Lake in Thornville, Ohio, an area where Kimberly spent most of her childhood, are sure to provide a spark of photography inspiration for anyone!
Photography inspiration just keeps growing stronger
My only "camera" equipment was an iPad mini. As I began posting pictures on my social media page, people started to make positive comments.
For example, my co-worker Katy would say to me, "The first thing I do in the morning is look for your new pictures as they bring me joy!"
My newly acquainted sister-in-law, Leslie, sent me a private message, saying, "Hey Kimmy, do you know I am a photography judge and you have a real eye for photography!"
I didn't know that about her as she lives out of state and I had only met her once!
As my "fans" started to grow, friends and co-workers would ask me if I would take their engagement photos, senior pictures, family photos, etc. I agreed, but was so very nervous!
I didn't have a professional camera and had to borrow a camera from my mom, Lorraine! I watched a lot of tutorials and practiced on my own kids and family.
With my heart racing, I drove to my first "real" photo shoot for a high school senior named Jamie.
As soon as I got home, I downloaded the pictures and began scrolling through the 300+ photos I had taken. Low and behold, most of them were amazingly clear and gorgeous!!! I shocked myself and Jamie's mom as well!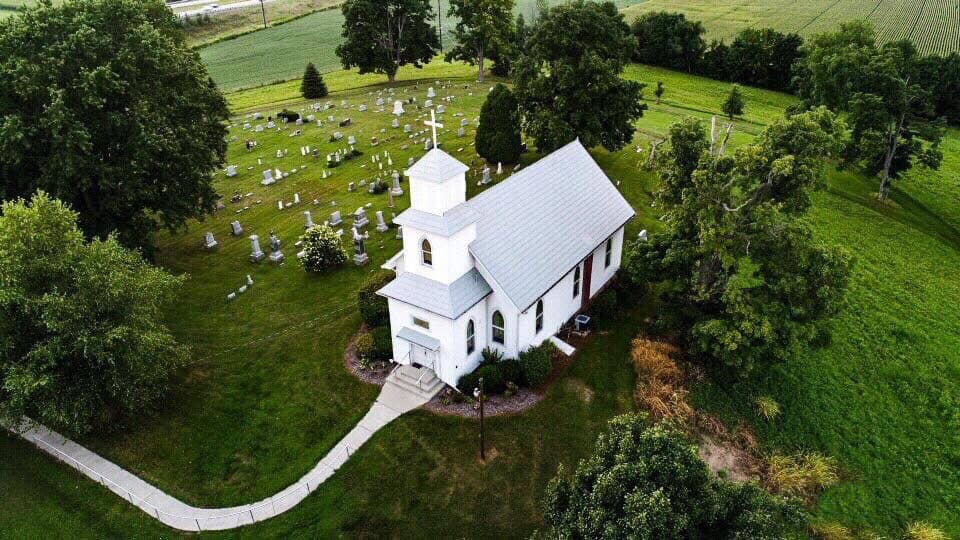 "A hilltop beauty I just had to take an aerial photo of," says Kimberly Purple, who used her drone camera to capture this shot of Trinity Lutheran Church in Lancaster, Ohio.
As people started seeing my work, I got more bookings. As business started picking up, I knew I would have to figure out how I was going to purchase my own high quality camera equipment.
I work a full-time job as an Occupational Therapy Assistant, but I also have 5 grown children, whom I would help out as their needs would arise – usually before my own needs. That's just what moms do!
My husband and I were in the middle of remodeling our duplex, and I unexpectedly had to have major ear surgery – money was pretty tight. I asked God for help, holding this scripture close to my heart:
Ephesians 3:20 – "Now to Him who is able to do exceedingly abundantly above all that we ask or think according to the power that works in us."
I started saving all my photography money and in about a year was able to buy a used Nikon camera and a Phantom 4 drone!
So, during the next two years with much encouragement from my husband, Jon, my family, and my friends, "Reine Down Photography" became my official start up business!
To date, I have shot numerous family photos, many real estate drone videos, three weddings, several high school seniors, a charity calendar for Nationwide Children's Hospital, numerous events, several local videos, a billboard and various other types of photography.
As a healthcare worker, during this time of a national health crisis, I started making free aerial videos for the local businesses as a way to help them through a difficult economic period.
To be honest, I always ask God to help me during each and every shoot! I get joy out of displaying the beauty of nature, capturing special family memories, and giving God the glory for my new found gift.
---
To see more of Kimberly's photography and find some photography inspiration, follow her on Instagram @reinedownphotography and Facebook and her website.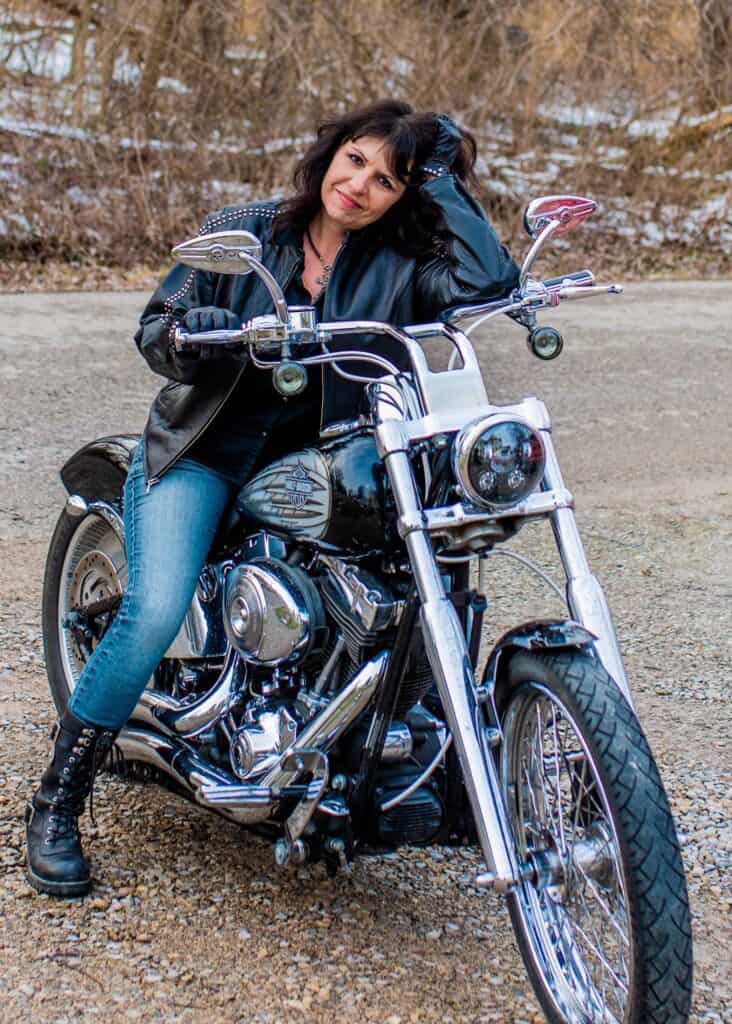 Kimberly Purple: "I come from a very long line of women who ride Harley-Davidson motorcycles. My great grandparents started the oldest dealership in the country called A. D. Farrow Harley-Davidson, back in 1912. Being a "Harley chick" myself, I aspire to make a commercial featuring motorcyclists, riding throughout the beautiful country roads of Ohio. I can't wait to see what this year has in store for me!"
"I get joy out of displaying the beauty of nature, capturing special family memories and giving God the glory for my new found gift."
Kimberly Purple
Kimberly Reine Purple, who lives in central Ohio, is an adventurous storyteller of people and nature on land and in the air! She's a natural light photographer and FAA certified drone pilot.