Following God's call to Uganda ministry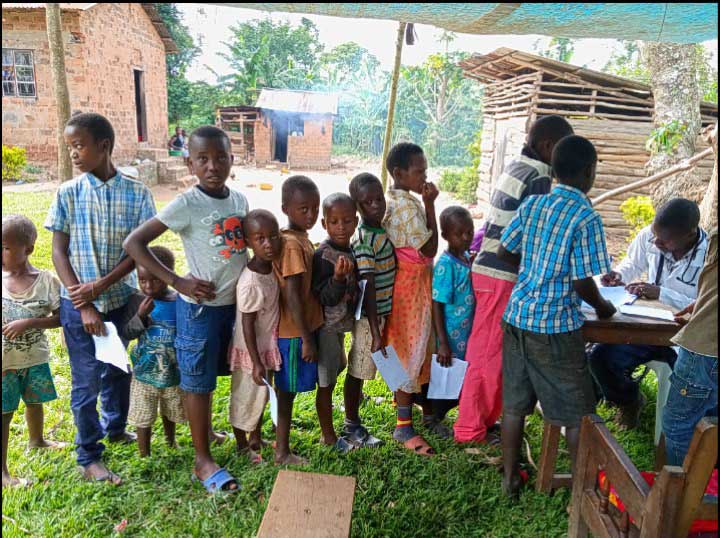 By Dr. Kenny Lule
Pastor of Esuubi Community Church
Uganda ministry was not my original plan, but isn't it wonderful how God can take our plans, turn them inside out and upside down and we find ourselves happier and more fulfilled than we could have ever imagined?
Let me share with you our Uganda ministry and how God is working in lives all around us.
The beginning of my Uganda ministry
My first indication that God was using me in Uganda ministry was early 2015. I was doing my last year of medical school, and I happened to have my hospital practice in the rural area of Uganda.
For the first time, l realized that people in rural Uganda lived a totally different life from the one I lived growing up in the city (Kampala/Entebbe).
People in rural Uganda suffered a lot because of ravaging poverty and lack of educational opportunities.
Everything is so scarce. What really touched my heart was the rate at which children were dying from preventable tropical diseases, mostly malaria.
For rural people to have access to a well-trained medical worker is a miracle.
Therefore, having seen this, I resolved that after graduating I would seek God to take me anywhere in rural Uganda. I would serve Him there.
Now, the trick was, there was a love of my heart, Claire, to convince of my new calling.
Before this calling, our plans were for me to come to the US to study a postgraduate degree so that I could come back to Africa and be a super doctor.
To be honest, this was all about living the American dream.
To cut the long story short, I called Claire and she responded with (and I quote): "If you are sure He is calling you to full-time ministry, let us continue to pray about where He calls you and I'll follow."
Now, I didn't expect it to be that easy, but God is so good. Claire gave my mysterious calling a chance.
When he saw the crowds, he had compassion on them, because they were harassed and helpless, like sheep without a shepherd. Then he said to his disciples, "The harvest is plentiful but the workers are few. Ask the Lord of the harvest, therefore, to send out workers into his harvest field."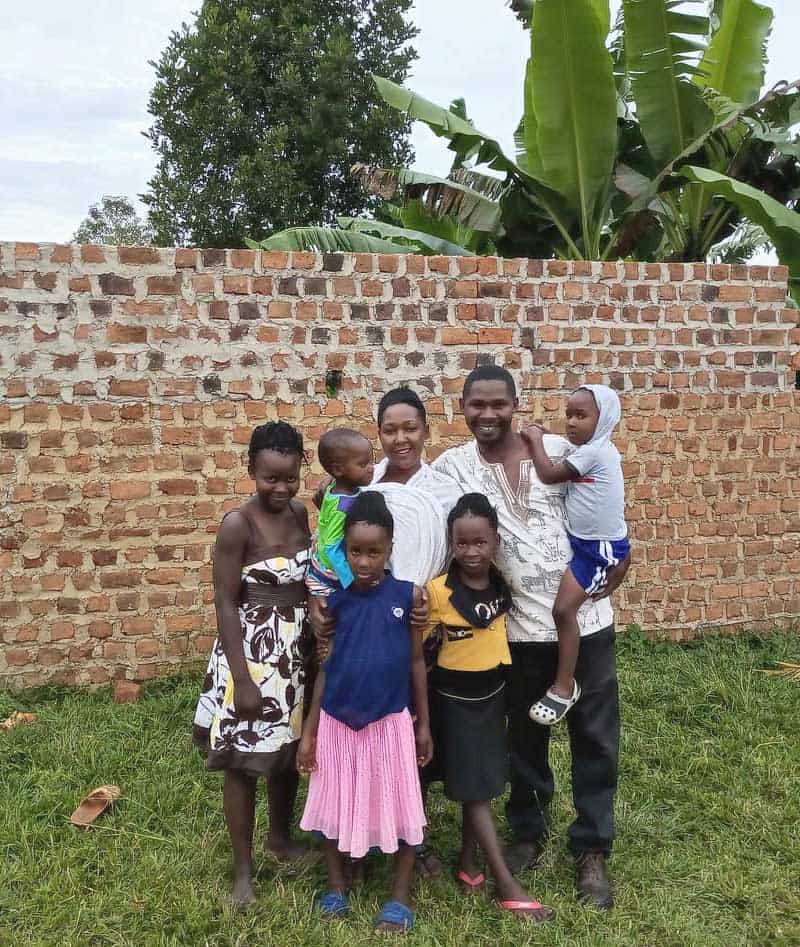 God's will in rural Uganda
We got married on August 28, 2015, and immediately started looking for funds to head to the mission field. But, we did not receive funding.
As an alternative, I started working with a Christian organization in Kampala, where God providentially allowed me the opportunity to study at a Bible institute, Word of Life Fellowship Uganda. Our hearts, however, were still thirsting for a rural Uganda ministry.
So, in December 2016, we sold one of our properties in Kampala – this property was shared with my brothers. When I got my share from the sale, Claire suggested that we should go to the countryside and buy a property where we could start a ministry.
Amidst our vast financial struggles of the moment, we decided to prayerfully ask God to lead us to a place in rural Uganda.
A contact ended up leading us to the village of Vumbe in the Mityana District of rural Uganda.
We built our house in the community, and since then the Lord has blessed us in every single way beyond measure.
God works in mysterious ways. Like the old man said, "When God calls you and sends you, He doesn't always give details of the journey, but those who listen and obey live to witness His goodness."
We are more than grateful that we obeyed the call. There is nothing better for us than staying here where the loving Father has placed us a time like this. It's a privilege to be a tool in His hand.

The beginning of a family
In February 2017, Claire and I visited the village as our house was still being built, but we thought it wise to come with some school supplies for having a kids' camp. We thought we could serve a couple of them as we anticipated the great need for the supplies.
I as well came along with a few basic medicines, anticipating that a few people could make use of them.
When we got to Vumbe, to our surprise, around 50 people were waiting for us – children, mothers and grandmothers. They had earlier learned through our contacts that a medical doctor was arriving.
People with all sorts of medical issues showed up. What was earlier planned to be a small kids' camp burst into an emergency medical camp.
We did what we could and everyone was eventually very happy. We were still working at sunset.
I also shared the news of the Gospel. People gave me their attention; no one trusted Christ that evening (as far as I know), but some of them accepted the salvation of Christ later through our Uganda ministry.
The welcome we received on that first visit, however, was a confirmation that our ministry to the community was relevant. We barely knew the needs of Vumbe and had to guess based on the assumption of the needs of other rural villages, but still, we knew God had led us.
After that evening, Claire and I were exhausted, but we were grateful to have confirmed that the community desperately needed our services.
Since then, God has allowed us more opportunities to build relationships that have led many to Christ who are now being discipled at Esuubi Community Church and others at our Fountain of Life Christian school.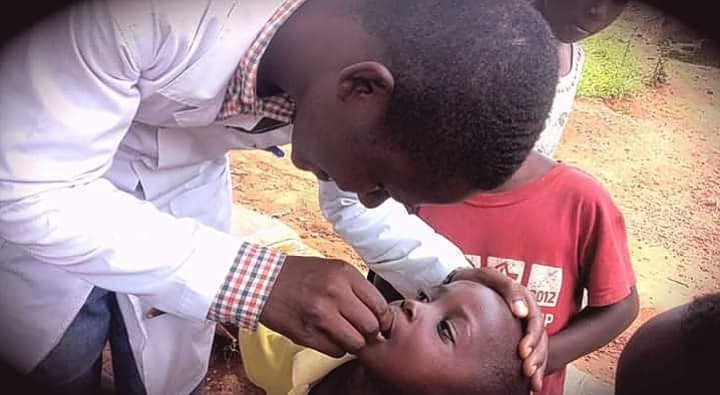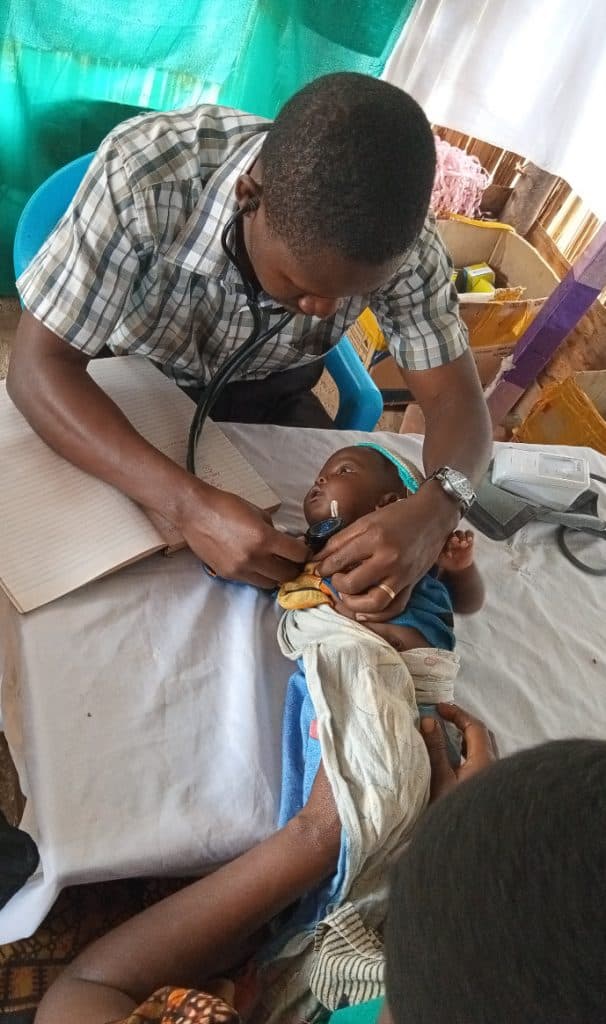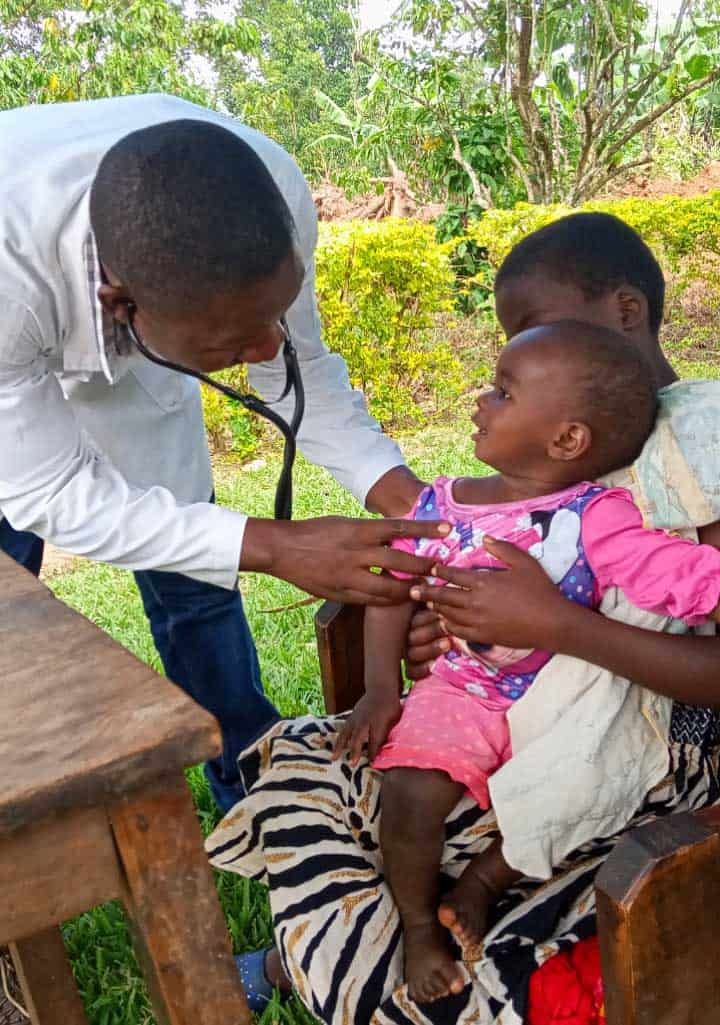 The big move to village life
I am going to fast forward a bit and continue to share with you our Uganda ministry as God's will was unfolding in our lives and in the lives of those in rural Uganda.
September 2017 finds us moving to the community full time.
We left our home in Kampala, our family, and our friends. For the sake of He who loved us and gave everything for us, we chose to obey His call on our lives. We packed our bags and moved.
We were both excited and anxious. We didn't know what to expect; I had never lived in a village before.
We reached the community. It was very dark, not like anything I have seen before. It was so silent. So we went to bed that night, and before we knew it was morning. We survived the first night!
After two days, on September 19, we received our first-ever mission team from the US.
It was a group of four adults and one young man. Our friends and ministry partners Amber and
Dave Wolf from the United States put it together.
I want to confess that this group was bold, flexible, and understanding. We really enjoyed staying with them in the same house and ministering with them. We had such a good time.
We had our first, well-organized medical camp in the community.
We pretty much made everything from scratch. We dug the grass off the medical camp site, sewed sacks that acted as tents, and made tables.
That day we saw about 300 patients; we worked till sunset. It was the darkness that chased the patients away.
I had two friends who came from Kampala to share the Gospel with the people who came for medical care. My friend Dr. Nelson was there to help too.
We also had a kids' camp. Now, this went crazy. We had planned for about 200-300 kids utmost. We bought 60 dozen books and a lot of other school supplies to give to the kids after the camp as a way of supporting their education.
To our surprise we had about 600 kids show up! It was crazy!
We got overwhelmed, took a deep breath, and stepped forward in God's grace to minister to these children.
We played games, ate a snack, and shared the Gospel (about 50 kids stepped forward as a sign that they had trusted Christ). As camp ended, we gave away school supplies. Each child got something at least.
For the 10 days the US team was here, we had such a wonderful fellowship with them.
This remains our best mission trip to date.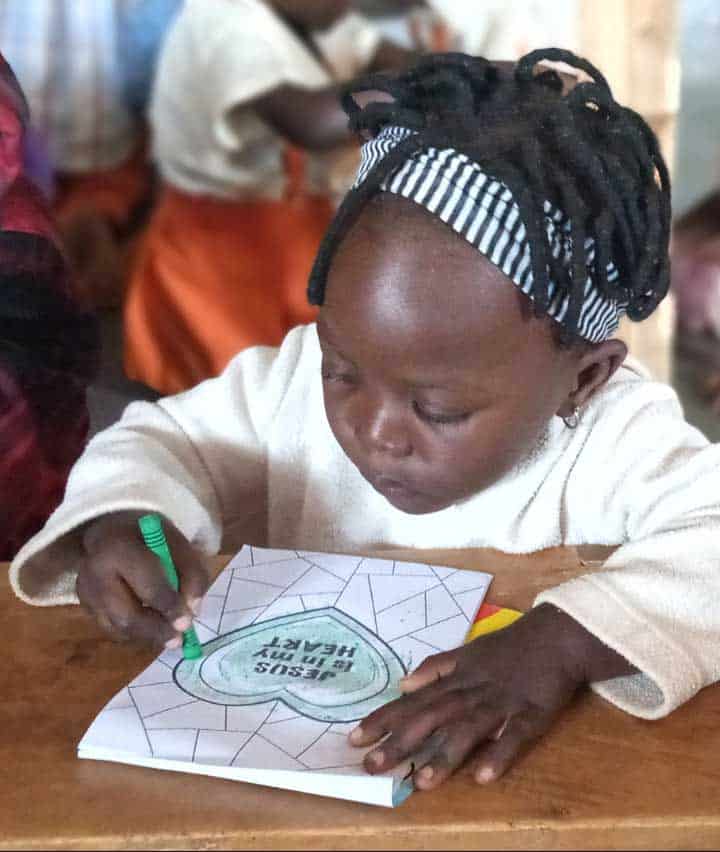 God's blessing on the Uganda ministry
Isn't God wonderful? Not only to call us to reach others for Him, but to provide over and over for our needs as He encourages us along the right path. God has blessed our Uganda ministry abundantly. I wish to continue telling you our story, but this is getting quite lengthy now.
There is so much to share and so many blessings to be thankful for that I plan on writing a second part to this because our story is far from over.
Pray for us and stay tuned for more awesome news from rural Uganda!
In the meantime, learn more about the four projects of the Lule's Uganda Ministry. If you would like to learn how you can participate in this ministry in rural Uganda or to make a donation, see more here or on Dr. Lule's website.
MEET the AUTHOR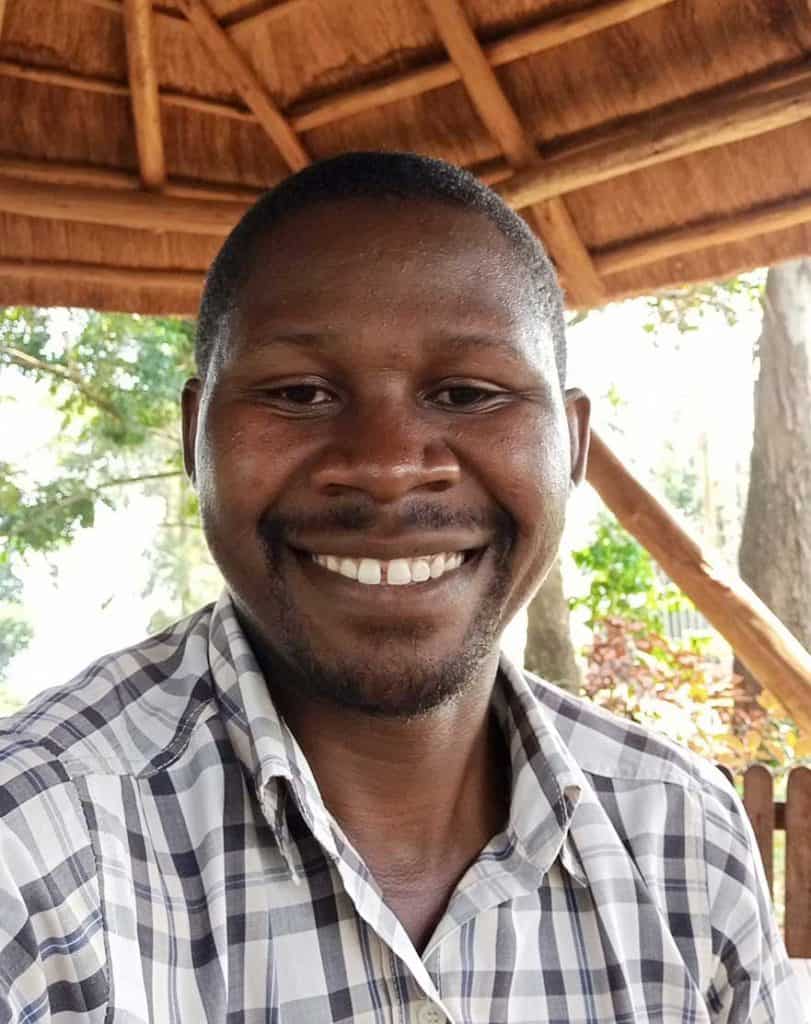 Dr. Kenny Lule and his wife, Claire, a former TV actress, followed God's calling and traded in city living for a life of sharing the Gospel of Christ in rural Uganda. Since moving away from their comfortable life in Kampala three years ago, the Lules have started four ministries, including their medical clinics and children's camps.
Dr. Kenny Lule
Pastor, Medical doctor
If you were inspired by Kenny's enthusiasm and commitment, we think you will also enjoy reading these articles by Adriana, Naomi, Teresa, and Cheyenne.
Adriana David starts us off with a series about Family Traditions that takes us around the world to explore the customs that bond us together as families and communities.
A church counselor (Naomi Adjei) teaches us about building strong communities. Naomi now lives in Omaha, Nebraska, but her family upbringing in Ghana has given her a perspective on how cultures can maintain strong family relations and churches can create strong fellowships.
Keeping families strong is important to our founder and editor, Teresa Lamsam, as well. In her article on the 7 Ways Stories Help Build Families, she investigates the benefits of passing down the stories of our family life, past and present.
Speaking of family stories, Cheyenne Hasty tells us a deliciously interesting family tale going back to the 1800s and has the added benefit of including a chocolate spice cake recipe!