Note: This post contains affiliate links. Simply put, if you click on a product and make a purchase, we may make a small commission. This is at no extra cost to you. For more information, please see our disclaimer and privacy policy.
St. Patrick's Day History: The Fun, Traditions, and Folklore We Love
Close your eyes and think about the term St. Patrick's Day. What comes to mind? What experiences and images do you conjure up? I bet they involve the color green! What about shamrocks, leprechauns, and pots of gold? Can you smell the corned beef and cabbage?
Let's take an adventure back into time and explore St. Patrick's Day history and the traditions that surround this festive time of year.
As I was researching this post, I was surprised to discover exactly how much I didn't know about this Irish holiday we all enjoy as well as how far back its observance goes. The leprechauns may or may not have been replaced in my mind by the sacrificial spirit of a beloved saint which brings this holiday depth and meaning. I hope you enjoy this St. Patrick's Day history as much as I did.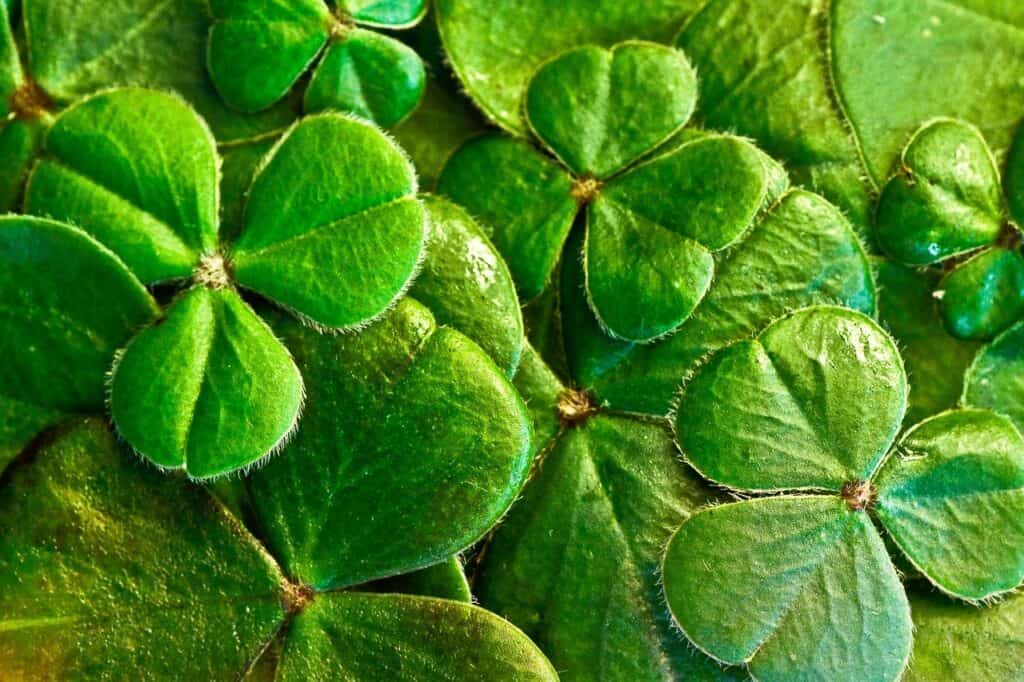 What is the origin of St. Patrick's Day and why do we celebrate it?
You may be the type that boasts a "kiss me I'm Irish button" or one that wears the easily recognizable shade of green, or perhaps you don't care to observe March 17th at all, but I think you will enjoy this history of St. Patrick's Day traditions. It is surprising to learn most of what we think belongs to this holiday is not at all how it began.
Isn't it exciting to walk back in time and uncover the myths, folklore, history, traditions, and religious experiences that surround days we think of as "fun"?
We celebrate St. Patrick's Day with large parades, fun drinks, and parties. Our kids enjoy hunting for leprechauns and gold coin candy, but all of this came about in recent years. This holiday actually began over a thousand years ago as a religious observance of the life and death of St. Patrick.
Most of what we know about St. Patrick comes from "Confessio" a book written by St. Patrick during his last years. I am thankful (and somewhat impressed) that such a document has been preserved for us to read and share in so many years later.
Who was St. Patrick?
Who was St. Patrick anyway and why is such a joyful day set aside to honor him? St. Patrick's Day history really begins with him!
St. Patrick lived during the fifth century. He was born in Britain, kidnapped at the age of 16 and brought to Ireland as a slave. For the next 6 years he worked as a herder, sustained by his deepening faith. He later escaped but returned as a bishop determined to convert the Irish to Christianity.
Prior to Christianity the Celts worshiped gods such as Belenus and goddesses such as Brigid and Morrigon. They had festivals and specific days of worship just as most other religions.
St. Patrick had a strong desire to bring the Irish to Christ and spent 40 years teaching and traveling the country, converting thousands while building churches, baptizing, and helping his fellow man. He was the perfect picture of a missionary, close to God with a heart full of love for the people of Ireland.
How did St. Patrick die?
St. Patrick lived in poverty and humility. He died March 17, 461, in Saul. It was here in Saul, close to modern day Downpatrick, that he built his first church.
The circumstances surrounding his death are not clear, but it is said that thousands flocked to Saul to pay their last respects and the darkness of night was bright by the torches held in his honor as the multitude sang psalms.
St. Patrick's Day traditions
Many legends sprung up following St. Patrick's death. We humans love our legends! Some of the legends include that he used the shamrock to explain the holy trinity. Another legend is that he drove all of the snakes out of Ireland and into the sea. Some claim that he raised the dead while others boast that he made swine appear to feed a group of starving sailors.
Let's turn our attention to the traditions and festivities surrounding this man of faith. Some have absolutely nothing to do with him, but we all enjoy an excuse to have a good time. And as you will see, many did not originate in Ireland at all but in the US.
St. Patrick's Day in Ireland
Traditionally, St. Patrick's Day in Ireland has been a day of religious observance. Families dress up and attend church with shamrocks pinned to their chests. Although it is in the middle of lent, meat was allowed and a large meal is enjoyed after the morning service.
If you are imagining the pubs and restaurants full of green beer, you would be wrong. This is more an American tradition than an Irish one. Actually, alcohol was forbidden on March 17th until the 1970s. It is provided in some of the bigger cities for the sake of the tourists.
These religious traditions remain strong in the hearts of the Irish and with good reason!
St. Patrick's Day in America
It was the Americans that really turned this religious observation into a celebration. The first St. Patrick's Day parade occurred in New York City in 1772 (there seems to be some controversy here as many claim it was Boston in 1760). It wasn't until 1995 that the Irish government agreed to their own parade which now takes place annually in Dublin.
Boston, Chicago, Philadelphia, and Savannah all put on huge parades involving 10,000-20,000 participants each. They always include dancing leprechauns clad in green usually performing daring acts.
Since 1962, Chicago has gotten into the real spirit of things and dyed their river green on St. Patrick's Day.
Why do we wear green on St.Patrick's Day?
And speaking of the traditional color green, did you know that it was first blue? Green was introduced to St. Patrick Day festivities in the 18th century due to the shamrock becoming Ireland's national symbol. The beautiful green of the country dubbing it the Emerald Island also comes into play.
St. Patrick's Day history tells us that the color was changed from blue to green during the Irish rebellion against Britain in 1798. The Irish uniform was green while the British was red.
There is a ballad "The Wearing of the Green" dating back to this time.
And if you are into folklore, leprechauns are another cause of the green color. These little mystical creatures are said to pinch people when they see them. However, they cannot see the color green and therefore will pass you by if you are adorned in the color.
St. Patrick's Day 2021
Are you ready to jump into St. Patrick's Day traditions or create some of your own?
Unfortunately, large gatherings such as parades have been cancelled this year, but in the future check out the parades in Tokyo, Dublin, Belfast, New York and Chicago.
Since we can't go out and celebrate, why don't we bring some St. Patrick's Day traditions inside!
St. Patrick's Day decorations
Now that we've gone over St. Patrick's Day history, let's get on with the decorations! Whether you are having a party or simply want to add a little fun to your home decor, St. Patrick's Day gives you a wonderful excuse to do just that!
You can easily find table runners, decorative pillows, candles, and window clings for the inside of your home.
How about a fun and festive way to be greeted? Your visitors will join your enthusiasm from the moment they knock on your door with these doormats.
For more seasonal doormats to welcome your friends and neighbors, be sure to check out this collection of winter doormats!
St. Patrick's Day books
Your kids will love these St. Patrick's Day books! Some are informative and some are just plain fun. They are full of activities, the story of St. Patrick (along with a few myths), and seriously, what kids isn't going to laugh at a farting leprechaun?
St. Patrick's Day clothes
Of course, you want to be sure to wear green on St. Patrick's Day, but if you really want to get into the spirit of things, check out these fun shirts!
So, there ya have it! The fun, interesting, religious, and festive traditions surrounding the Irish holiday we all love. What did you learn about St. Patrick's Day history and traditions? What surprised you the most? I'd love to hear from you in the comments below!
And be sure to check out these other historical posts!
How the history of Advent gives us a reason for the season